Venice > Local transportation > Waterbus stops > Aeroporto Marco Polo
Aeroporto Marco Polo
From: Venice Waterbus Stops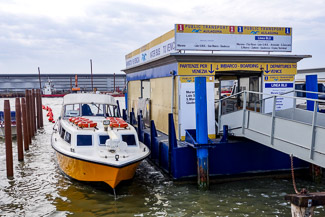 ABOVE: An Alilaguna airport boat waits by a pontile, or floating platform, at Venice Marco Polo Airport. (Note: We aren't displaying a Google or Bing map because satellite images haven't kept up with changes at the airport.)
Aeroporto Marco Polo is the waterbus stop for Venice Marco Polo Airport (VCE), which is located north of Venice's city center on the Venetian Lagoon.
The boat platforms are served by:
Alilaguna Linea Arancio, Blu, and Rossa (summer only) airport boats
You can buy Alilaguna tickets inside the arrivals terminal, from a ticket booth or machine by the pier, or (for a slight surcharge) on the boat.
Private water taxis arrive and depart at boat slips next to the Alilaguna platforms.
A moving sidewalk connects the terminal and the piers. (Just follow the signs and allow five minutes or so for the trip.)
Please note:
ACTV public water buses do not serve Marco Polo Airport.

Read our Venice airport transportation article before planning your trip into the city. (Depending on where you're staying, an airport bus, land taxi, or water taxi may be more convenient than an Alilaguna airport boat.)