Venice > Topic index > Title
'Is Venice connected to the mainland?'
Venice, Italy's historic center is built on 118 small islands that are linked by 400+ footbridges. A railroad bridge and the Ponte della Libertà, a highway bridge, connect the centro storico to Venice's modern mainland districts of Mestre and Marghera.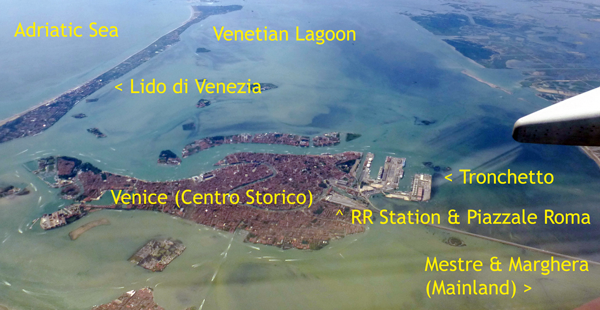 ABOVE: Venice's centro storico, or historic center, is in the middle of this aerial photo. The thin line above the "Mestre & Marghera" label is the railroad bridge and causeway to the Venetian mainland. Click here for a bigger image if you're usig high-speed Internet and a large screen.
---
First-time visitors to Venice are often surprised to learn that the city (or at least its historic portion) is located offshore, some 4 km or 2.5 from terra firma or dry land. Until 1846, the only way to reach the city center was by boat.
Today, you can reach the centro storico, or historic center, by multiple modes of transportation:
---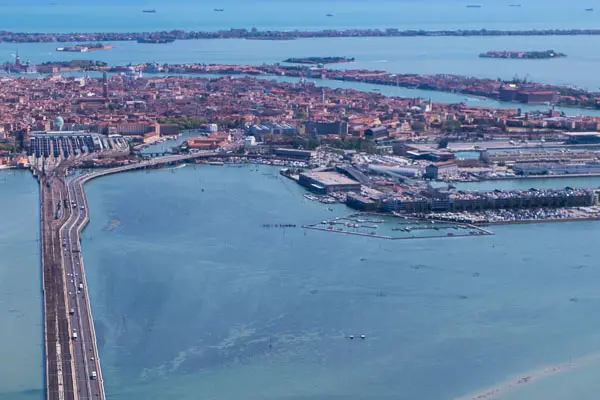 ABOVE: A railroad bridge has connected Venice (top half of photo) to the Italian mainland since 1846. Alongside it runs the Ponte della Libertà, a causeway that serves motor vehicles, trams, bicycles, and pedestrians. Click here for a larger photo.
---
Why Venice's location matters:
1. Venice is more than the centro storico.
Venice's historic center is just one part of the Comune di Venezia, a.k.a. the City of Venice. It isn't even the biggest part: The centro storico has about 50,000 residents, while the municipality as a whole has a population of more than 260,000.
Most Venetians live in the comune's mainland districts of Mestre and Marghera. However, nearly everything of interest to visitors is in the historic center. This leads to our next point:
2. "Where should I stay?" requires an educated choice.
When choosing a hotel or vacation apartment in Venice, you have three options:
3. How to reach Venice by air, land, or sea.
We also recommend reading:
If you have time to browse, see:
---