Visa TravelMoney Cards
Prepaid ATM/debit cards replace traveler's checks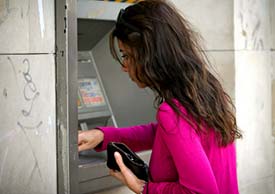 ABOVE: With a TravelMoney card, you're likely to whacked with two fees (a transaction charge and a "onversion fee" every time you withdraw money from an ATM overseas.
By Durant Imboden
Until recently, both Visa and American Express offered prepaid cards that combine the convenience of ATM or debit cards with the safety of traveler's cheques. American Express has withdrawn from the "travelers cheque" card market, leaving Visa as the only U.S. provider. (Britain still has the Post Office Travel Money Card; see the end of this article for a link.)
Safety is the main appeal of a prepaid travel cash card: If your card is lost or stolen, the card company will issue a new card or refund the unused balance. However, you'll pay a premium for this reassurance, especially if you use the cards to obtain foreign currency--and you'll still need to carry a credit card for occasions when the prepaid card can't be used (e.g., to secure car-rental or hotel reservations).
Visa Travelmoney Card

The Visa TravelMoney Card is sold in the United States by the American Automobile Association, National City, Travelex, US Bank, and other vendors (including "big box" discounters, supermarket groups, and drugstore chains).
Fees vary from vendor to vendor, but you're likely to pay anywhere from US $6.95 to $12.95 just to get the card, plus fees for checking your balance, withdrawing money from ATMs, etc. You may be charged an "inactivity fee" or "account maintenance fee" of $$2.50 to $4.95 per month if you don't use up your card's stored value within six to 12 months.
TravelMoney is available in various preloaded amounts, depending on where you're buying it. (Some vendors have minimums as low as $25 and maximum loads of $5,000 or $10,000.). Normally, you can reload the card at the vendor's Web site or by calling a toll-free number, with reload fees that can range from several dollars to $15.
Using the Travelmoney card is like using a credit or check card, and you can withdraw money from any ATM that displays the Visa logo.
Warning: If you withdraw cash or make purchases in a currency other than the one on the card, you're likely to be hit with an eye-popping conversion fee of 3 to 7 percent in addition to the ATM transaction fee. You may even get hit with the fee if you make a purchase in U.S. dollars outside of the United States (for example, on an American cruise ship in international waters).
Should you buy a prepaid traveler's cash card?
It depends. If you're an American, we'd say "no," because the Visa Travelmoney Card's fees are so high. It makes far more sense to carry a standard ATM card with a credit card as backup. If you want additional peace of mind, buy a few traveler's checks and keep them in a neck wallet or money belt.
However, if you live in Britain, you might want to consider the Post Office Travel Money Card, which is a much better deal than its American counterpart. The card can be purchased in euros, U.S. dollars, or pounds sterling, and fees are minimal for the euro and dollar versions.
Need more money advice? See the articles below.
---
---
"Best of the Web"
- Forbes and The Washington Post
---

Need a car in Europe?
If you live outside the EU, a tax-free tourist car lease can be cheaper than renting for visits of 21+ days. Minimum driver age is 18, there' s no upper age limit, and rates include insurance.

Renault Eurodrive car leases
---
---
Traveling by train?
Get free schedules, maps, and guides for 50+ European railroads. (Residents of North and Central America can buy tickets and rail passes online.)
---
Our companion sites: