Credit-Card Surcharges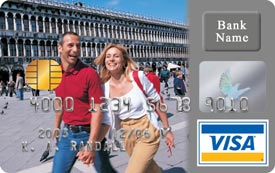 ABOVE: Credit cards and travel make great companions, but read the fine print before you charge around Europe. Tip: In the U.S., Capital One is one of the few credit-card companies that has resisted the urge to levy surcharges on international transactions.
---
by Durant Imboden
If you travel with a Visa, MasterCard, American Express, or other credit card, watch out when charging purchases overseas.
The reason: Most U.S. and Canadian credit-card companies are now tacking an extra 2% to 5% fee on international transactions.
This is not a currency-exchange commission, because the Visa/MasterCard clearinghouse has already taken its commission (currently 1%) when converting your transaction from foreign currency into U.S. or Canadian dollars. Instead, it's just another way for the credit-card issuer to squeeze extra profits out of customers who may not be aware of the added fees.
We learned about this trick back a number of years ago when we received a mailing from FirstUSA, where we had a Visa account. FirstUSA announced that it would add a 2% charge to the dollar amounts reported by Visa and MasterCard for transactions converted from foreign currencies.
Cheryl, our family financier, was shocked by the announced charge and decided to do some investigation. She called First Card, a major Midwestern credit-card supplier, and learned that it added 3% to such transactions. Next, she called USAA and Capital One. Neither of those U.S. companies added a fee at that time (although USAA now imposes a 1% fee after years of self-restraint).
More recently, the Washington Post reported that Providian National Bank is adding 4% to purchases in currencies other than U.S. dollars. Chase and Citibank had 2% surcharges the last time I checked. American Express, which isn't affiliated with Visa or MasterCard, has been charging 2% but may have raised its rate to 2.7% by the time you read this.
But wait--it gets worse!
Next page: Watch for the double whammy
---
---
Photo copyright © Visa. Used by permission.
"Best of the Web"
- Forbes and The Washington Post
---
Our most popular topics:
---
---

Need a car in Europe?
Auto Europe guarantees the lowest rental rates for standard cars, sports cars, SUVs, luxury cars, chauffered sedans, and RVs. Its Web site also has driving information for 38 countries.
If you live outside the EU, a tax-free Renault or Peugeot tourist lease can be cheaper than renting. Minimum driver age is 18, there' s no upper age limit, and rates include insurance. See: Short-term car leasing.
---

Traveling by train?
Rail Europe
has schedules, maps, and guides for 50+ European railroads. (Residents of North and Central America can buy tickets and rail passes online.)
---
From Europe for Cruisers:
---
Travel and cruise news: