Beaune
From: Viking River Cruises: Southern France cruise review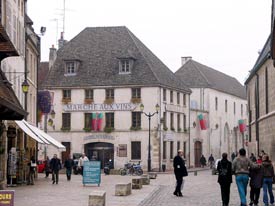 ABOVE: The Marché aux Vins (left) is on the same square as the Hotel-Dieu, a charity hospital-turned-museum.
Viking River Cruises offered a Sunday-morning shore excursion to Beaune on our first full day aboard ship.
Beaune is the capital of Burgundy's wine country, with walled fortifications and innumerable shops, restaurants, and cafés for the hordes of tourists and oenophiles who come to savor medieval atmosphere and sample wines from the region's world-class vineyards. During our brief visit to the city, we visited:
The Hôtel-Dieu of the Hospices de Beaune, a hospital from the Middle Ages (now a museum) that was built in 1443 to care for sick and starving residents of the town. You can still see the rooms and beds where patients received care until the 20th Century, and the building itself is a beautifully preserved Gothic masterpiece with an arcaded courtyard and a multicolored tile roof. (Today, medical facilities are in a newer building, but the hospital is still supported by revenues from its 61 hectares of vineyards and a world-famous wine auction.)
The Clos St-Bernardin, one of several wine caves where visitors can walk around the dimly lit cellars and sample a variety of wines. During our tour, we we were offered red and white wines along with crème de cassis and kir royale, which involves diluting a splash of the blackcurrant liqueur with Crémant de Bourgogne (the Burgundian version of Champagne). The experience made for a boozy Sunday morning, especially for those who aren't used to taking Communion.
For more information on Beaune and its attractions, see:
Cruise Photos: Beaune europeforcruisers.com
Next page: Macon
---
---
---
---