Les Baux de Provence
From: Viking River Cruises: Southern France cruise review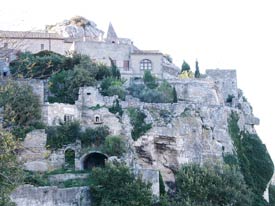 ABOVE: The village of Les Baux de Provence is a former citadel on a massive outcropping of rock.
At 8:30 a.m., the MS Maribelle left for Arles (see next page) while passengers headed by coach to Les Baux de Provence, a castellated village on a rocky spur between Avignon and Arles.
Les Baux is a major tourist attraction in summer, when the village's spectacular setting, pretty shops and restaurants, and medieval reenactments make it a popular summer detour from the autoroutes that lead to the Riviera. Few other tourists were in sight during our October visit, however, thanks to a bitterly cold Mistral wind that sent most MS Maribelle passengers into the village's churches and souvenir shops.
The Church of St. Vincent began life as a priory around 1000 A.D. and has been a parish church since the 15th Century.
Nearby, in the village square, the White Penitents' Chapel is a small church named after the a guild of laymen who wore white-hooded garments while burying the dead and helping with liturgical celebrations. The chapel was built in 1650, restored in 1936, and decorated in 1974 with colorful religious frescoes by the artist Yves Brayer. The paintings are delightful, and the chapel is well worth a visit even if you aren't hiding from a Mistral wind.
Higher up on the hillside is the Château des Baux, a ruined castle from the 13th to 16th Centuries where you can hear an audioguide narration in your choice of seven languages year-round. ("Spectacles" or re-enactments take place from early July through late August.)
Shopping is another way to spend time in Les Baux; during our visit, the souvenir stores were selling dried lavender, lavender soaps, and other gift items that were typical of Provence if not of the village itself.
For more information on Les Baux and its castle, see:
Cruise Photos: Les Baux europeforvisitors.com
Next page: Arles
---
---
---
---