Macon
From: Viking River Cruises: Southern France cruise review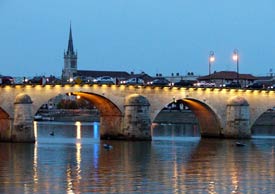 ABOVE: The MS Maribelle was moored near the 18th Century Pont de St-Laurent in Macon.
After our morning trip to Beaune, we arrived back at the MS Maribelle just in time for lunch and an afternoon of cruising on the Saône River. We covered about 60 km or 40 miles over the next five hours, passing a number of towns and castles along the way.
Tip: If you're cruising on a Viking ship, be sure to ask for a free "Route Information" book at the reception desk. On our itinerary, the booklet was reversible--Chalon-sur-Saône to Arles in one direction, Arles to Chalon-sur-Saône in the other--and it had Milepost-style listings of towns and landmarks that were keyed to kilometer placards along the river.
We reached Macon about 5:30 p.m., and several locals (with their dogs) were on hand to watch the MS Maribelle tie up along the quay. We walked around the town for a while, then returned to the ship before dinner to read the daily newsletter and learn what we'd missed on a quiet, rainy Sunday evening in October:
"The town with its many flowers has quite a southern flair. Most charming are its squares and small alleyways. On the 'place aux Herbes' a daily vegetable and flower market is held all summer.There is also a national French wine fair every year. The town museum is housed in a former convent. Other sites include the cathedral of St. Vincent as well as the apothecary of the 'Hotel-Dieu,' the old hospital. A museum that is dedicated to the town's most famous son, the poet Alphonse de Lamartine, provides insight into the story of his life and work."
For more information on Macon, see:
Cruise Photos: Macon europeforvisitors.com
Next page: Lyon
---
---
---
---