By Durant Imboden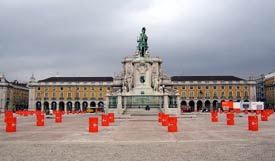 ABOVE: The tourist office's free shuttle bus dropped Regatta passengers off at the Praça do Comercio, which was decorated with orange drums during our visit.
Lisbon shore excursions
Continued from: Port of Lisbon
Lisbon is where Europe meets California: Its hills and cablecars are reminiscent of San Francisco, its climate is like that of a greener San Diego, its population has been multi-ethnic since Moorish times, and flower power showed its strength in the "Carnation Revolution" of 1974, when soldiers sported flowers in their gun muzzles and the Salazar dictatorship was overthrown without a fight.
Today, thanks to millions of euros in public and private investment, the Portuguese capital looks spiffier than ever--yet you'll still find ancient neighborhoods that have staircases instead of streets, and antique cablecars that haven't changed since I rode them as a boy in the early 1950s.
As a cruise passenger, you'll probably have just one day to explore Lisbon. From the Praça do Comercio, wander around the new pedestrian zone in the Baixa (Lisbon's main business district), then ride the Charles Eiffel-designed Elevador Santa Justar up to the Chiado shopping area if you're eager to spend money. You might then want to climb to at least one of the city's miradouros (scenic overlooks) and allow time to explore the ancient Alfalma quarter and the hilltop Moorish fortress of Castelo de São Jorge.
If you aren't up to hours of walking, you can book a shore excursion like these tours that Oceania's Regatta offered during its Dover-Barcelona cruise:
Highlights of Lisbon, a 4-hour guided bus tour with visits to the Tower of Belém, the Cathedral, and the Jeronimos Monastery, or Scenic Sights of Lisbon, a 2½-hour Cliff's Notes version.
Sintra and the Portuguese Riviera, a half-day excursion to the former royal palaces and the seaside resort of Cascais.
The Hope and Faith of Fatima, an all-day pilgrimage to a Catholic shrine in Central Portugal that attracts some 4 million religious faithful each year.
For more information on Lisbon, see my illustrated 19-page city guide:
Lisbon europeforvisitors.com
Next page: Port of Cádiz
---
---
---