River Countess Cruise Photos
From: Uniworld River Countess cruise review
Day 1: Embarkation in Venice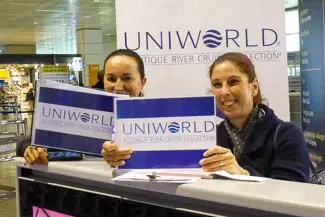 Our River Countess cruise experience began as we left the baggage area at Venice's Marco Polo Airport shortly before noon. Two uniformed women were holding up Uniworld signs, and one of them--the woman on the right in the photo--turned out to be Giulieta, our upstairs neighbor in Venice for several months in 2010.
---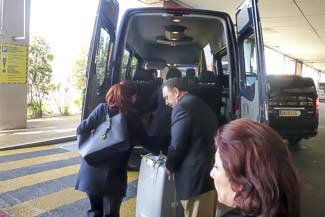 A few minutes later, we were escorted to a minibus outside the terminal, along with several other River Countess passengers who had arrived by plane in the last half-hour or so.
---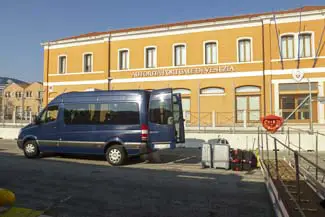 The ride from VCE to Venice took about 20 minutes. The bus brought us to the Santa Marta pier, which is next to Venice's San Basilio cruise terminal. The Port of Venice headquarters building is directly behind the pier.
---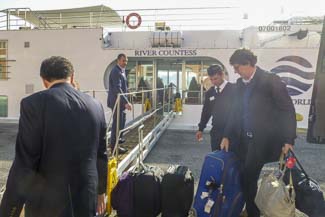 Officers and crew were waiting on the pier to take our luggage.
---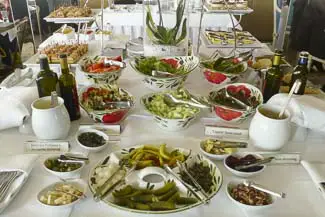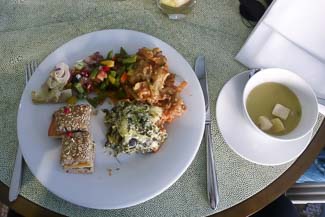 Due to our early arrival, our stateroom wasn't yet ready, so we were invited to enjoy lunch in the Castillo Lounge before check-in. The buffet offered appetizers, sandwiches, salads, pasta, soup, and pastries.
---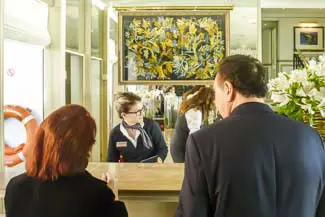 By the time we'd finished lunch, our room was ready, so we checked in at the reception desk, had our photos taken, and were given electronic keycards. (The couple in the photo checked in ahead of us.)
---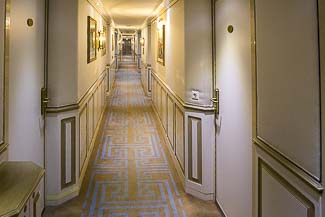 From the lobby, we were led down a hallway to stateroom 409 (one of four suites on Marco Polo Deck).
---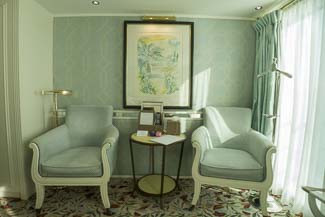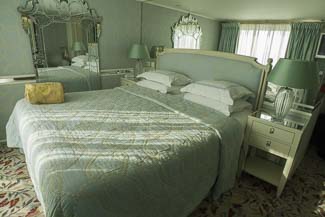 The suite had a seating area with two upholstered chairs that faced the large bed (which could have been configured as twin beds if we'd been characters from a 1950s movie).
---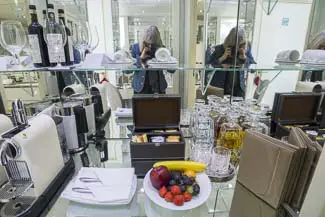 Around the corner from the sitting and sleeping area, next to the doorway, was a mirrored foyer with a Nespresso coffee machine, decanters of various spirits, a free minibar, and a plate of fruit.

---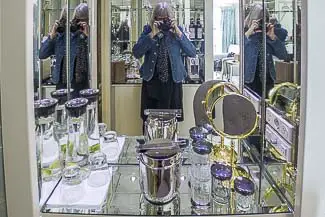 Another mirrored area faced the Nespresso side of the foyer. It had a large carafe of water with lemon and lime slices, glasses, an ice bucket, a make-up mirror, and other items.
---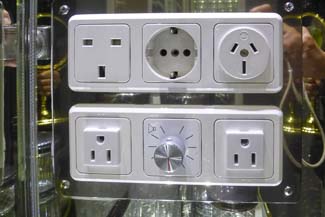 The foyer had electrical outlets for British, European, Australian, and U.S./Canadian plugs, along with a knob to control the volume of the PA system. (Early in the cruise, the captain told us that we'd never hear the PA system unless there was an emergency or a safety drill: Uniworld doesn't believe in annoying passengers with loudspeaker announcements.)
---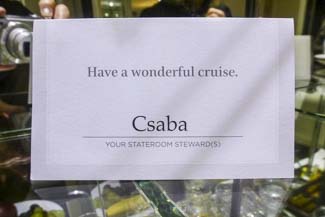 A card from Csaba, our suite attendant, welcomed us to River Countess.
---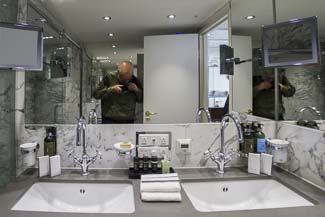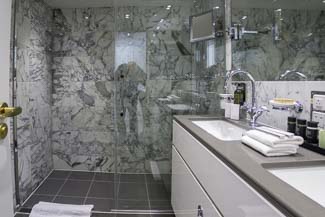 Just beyond the foyer was our marble-tiled bathroom, which had twin sinks, shaving or make-up mirrors, a large walk-in shower, and a wall-mounted radiator that was perfect for drying hand laundry.
---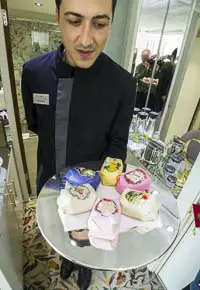 Csaba gave us a more personal welcome with a tray of Claus Porto luxury soaps, which are offered to suite guests. (All cabins and suites, regardless of category, are stocked with L'Occitane en Provence toiletries.)
---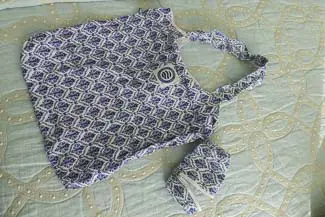 Csaba also drew our attention to the small pouch on our bed, which turned out to be a folding tote bag.
The tote is a perk for repeat Uniworld cruisers, who are enrolled automatically in the company's River Heritage Club loyalty program.
---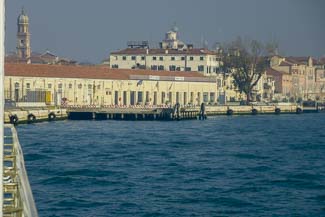 Our suite was on the port side of River Countess, facing the Giudecca Canal. Despite the day's haze, Durant was able to zoom in and take a picture of the San Basilio cruise terminal, which is east of the Santa Marta pier where we were moored.
San Basilio is used mostly by small- to mid-sized oceangoing cruise ships and hydrofoil ferries of Venezia Lines, which run between Venice and several Istrian ports in Croatia.
---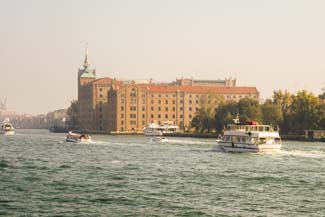 We also had a good view of the Molino Stucky, a 19th Century granary and flour mill that was abandoned in the 1950s, left to crumble for half a century, and renovated as the Hilton Molino Stucky hotel and an apartment building. The new hotel opened in 2007.
---
---
---
---