River Countess Cruise Photos
From: Uniworld River Countess cruise review
Day 3: Cruising to Chioggia (2)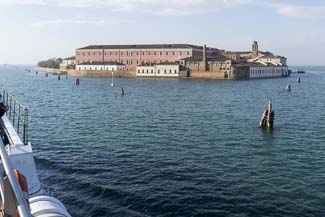 Next, we passed the private island of San Clemente, which used to be the site of a mental hospital but is now home to a five-star hotel, the St. Regis Venice San Clemente Palace. The hotel, which has a private 12th Century chapel, is a popular venue for high-end destination weddings.
---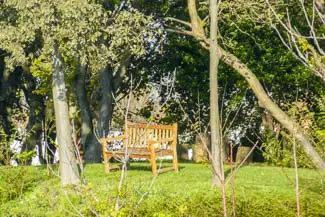 Durant has stayed at the hotel and recommends it highly: The 17-acre island is pretty and peaceful, the hotel itself is delightful, and the hotel's free shuttle boat takes only about 15 minutes to reach a private pier on Venice's San Marco waterfront.
---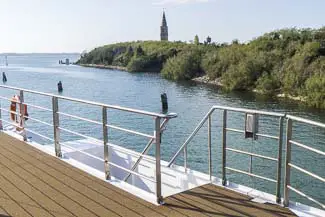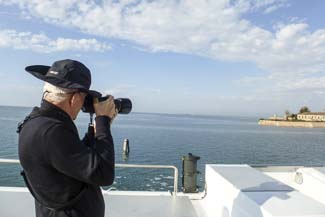 Our cruise route led us past a number of other islands, and amateur photographers kept busy on deck.
---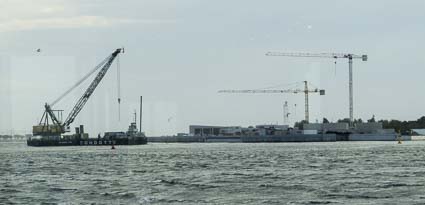 As River Countess crossed the strait of Malamocco, one of three channels between the barrier islands that separate the Venetian Lagoon from the Adriatic Sea, we could see work progressing on the MOSE flood-control project. When the MOSE tidal barrier is completed, it should stop acqua alta flooding from inundating low-lying areas of Venice.
---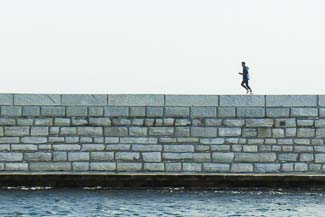 South of Malamocco, we saw a jogger atop the limestone seawall on the narrow, sandy island of Pellestrina, which is about 10 km or 6 miles long.
---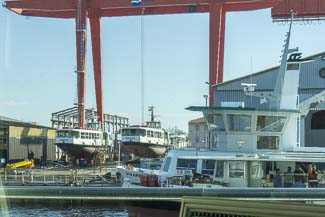 The cruise to Chioggia took us past a shipyard where water buses of ACTV, Venice's transit agency, were under construction or renovation.
---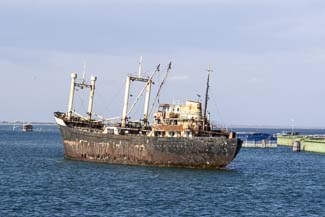 One of the more curious sights on the outskirts of Chioggia was the derelict ship Notios Hellas, a Greek vessel that was abandoned by its Russian owner in 1983. It's one of two wrecks (see Italian video) that have been rusting in the Lagoon for decades. The Italian government has pledged money for their removal, so they may be gone by the time you cruise to Chioggia.
---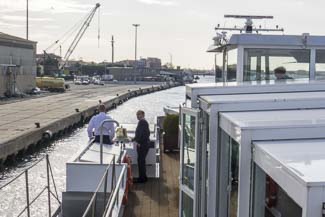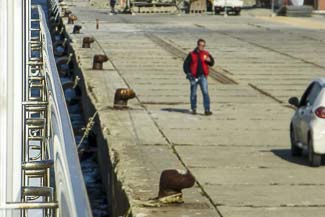 We reached the port of Chioggia just before noon, and it wasn't long until we were alongside the pier, within a few minutes' walking distance of the town center.
---
---
---
---