Silver Spirit Cruise Photos
From: Silver Spirit Cruise Review
Palma de Mallorca (3)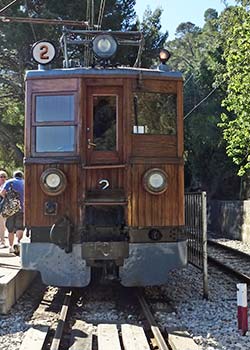 Our tour bus met the Ferrocarril de Sóller train at a suburban station just outside Palma. The train's wooden cars looked much as they probably did in 1929, when the line was electrified.
The historic railway line, which opened in 1912, has a gauge of 914 mm (three feet) and runs through plains and mountains from Palma to the town of Sóller on Mallorca's northwest coast.
The line's total length is 27.3 km or 17 miles, and the ride from Palma to Sóller takes slightly less than an hour. (From Apeadero de Son Reus, where we met the train, travel time was 45 minutes.)
---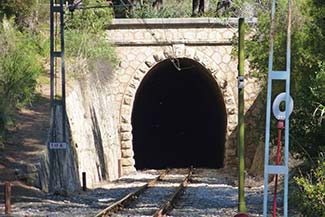 The route from Palma to Sóller crosses a mountain range, the Sierra de Alfàbia, which requires a good deal of climbing, a number of bridges, a viaduct with five arches, and 13 tunnels.
---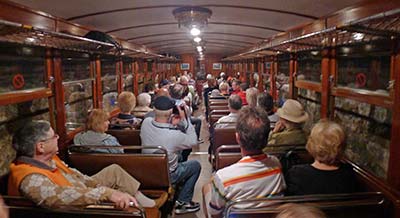 This photo was taken as our vintage train went through a tunnel.
---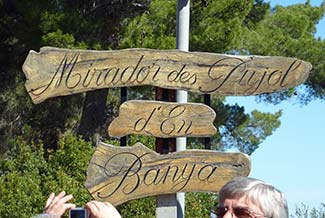 Between the Túnel Major and the Viaducte "Cinc-Ponts," our train stopped at a scenic overlook, the Mirador des Pujol d'En Banya.
---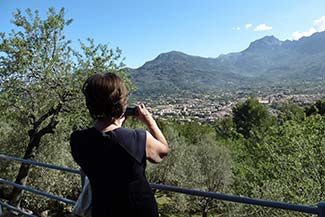 The views were impressive. In the distance, we could see the town of Sóller nestled beneath Mallorca's highest mountain.

---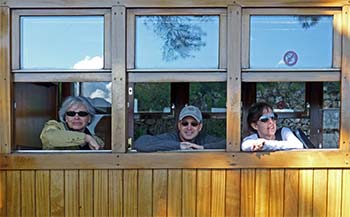 Some passengers preferred to enjoy the view from the railway carriage.
---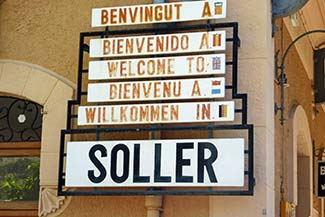 The train ride ended in the Sóller Railway Station, which welcomed visitors in five languages.
---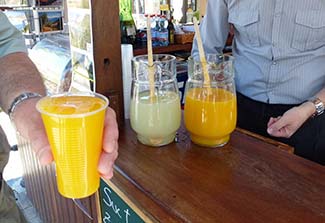 At a snack bar alongside the tracks, we bought a traditional Sóller drink: a blend of fresh orange and lemon juice.
---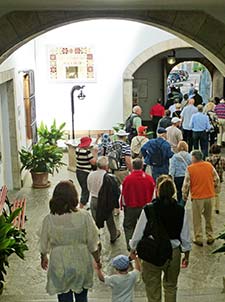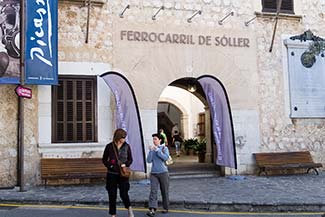 After using the station's clean toilets, we went downstairs to the exit tunnel and followed our group out of the station into downtown Sóller.

---
---
---
---