Santiago de Compostela
Page 7
Continued from page 6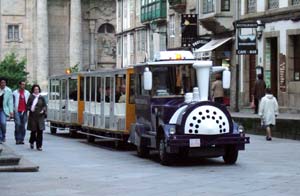 ABOVE: The Tren Turistico, or Tourist Train, hits the touristic high points of Santiago de Compostela.
Transportation
Arriving in Santiago:
On foot. Any number of pilgrims' guides describe the Way to Santiago. A good starting point on the Web is Camino de Santiago: The pilgrimage routes to Santiago de Compostela in pictures. For background reading, don't miss The Pilgrimage Road to Santiago, a 440-page cultural handbook by David M. Gilitz and Linda Kay Davidson.
By plane. Santiago de Compostela Airport offers service by several low-cost airlines, including Ryanair, Air Berlin, and Vueling. Iberia and Spanair have frequent flights to Madrid and Barcelona. The airport isn't big, but it has all the usual services, including car-rental counters for Hertz, Avis, and Europcar. A taxi into town costs around €20, depending on where you're staying, or you can take the Empresa Freire airport bus.
By train. Renfe, the Spanish rail network, offers train service to Santiago de Compostela. The journey by direct high-speed Alvia train takes about six hours from Madrid
By car. Santiago de Compostela is in the northwest corner of Spain, near the junction of the AP-9 and AP-53 motorways. Map out your trip with the ViaMichelin route planner.
Getting around town:
Santiago de Compostela has a public-transportation system. If you're staying on the outskirts, you can ask your hotel's reception desk for advice on which bus to take. In the city center, you're better off walking; Santiago isn't very large, and you can easily get around on foot--or by cab, if it's late at night or you're caught in a downpour.
The Tren Turistico or Tourist Train (see photo above) is another option.
For more information, see the Tourist Office's Public Transport pages.
Next page: Tourist information
---
---
---