Santiago de Compostela
Page 5
Continued from page 4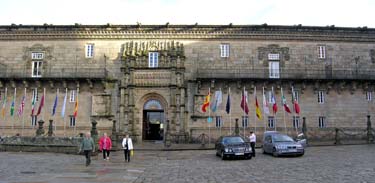 ABOVE: Santiago's parador, the Hostal dos Reis Católicos. INSET BELOW: The Hostal, the NH Obradoiro, and the Hotel Pico Sacro.
Hotels in Santiago de Compostela
Santiago de Compostela is a major destination for tourists and pilgrims, so it's wise to book ahead--especially during high season, or if you want to stay in the historic center.

For those who can afford the rates, the Hostal Reis Católicos--also known as the Parador of Santiago de Compostela--is hard to beat. The hotel's attractive rooms are built around the courtyards of a royal pilgrims' hospital and shelter that opened for business in 1499. It faces the Praza do Obradoiros, diagonally across from the Cathedral.

Another five-star hotel is the NH Obradoiro, where I stayed during my visit. The hotel is modern and comfortable, with an extremely helpful desk staff. (When I asked for a stamp, the receptionist mailed my postcard free of charge, and it arrived in the U.S. two days later.) Perks include an excellent buffet breakfast, parking, swimming pools, and Wi-Fi. Rates are surprisingly reasonable, and the hotel's only downside is the fact that its parkside location is about a 10-minute walk from Santiago's main square.
Our hotel partner, Booking.com, lists several dozen properties in Santiago de Compostela. Click here for listings.
Next page: Restaurants
---
---
---