Santiago de Compostela
Page 8
Continued from page 7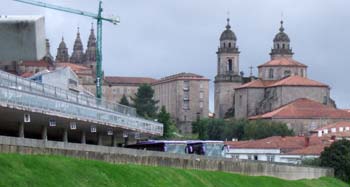 ABOVE: Tour buses park below street grade just outside the historic center.
Tourist information
The Galician Tourist Office, or Turgalicia, is a great place to begin planning a trip to Spain's northwest corner. For more information on the city itself, see the official Santiago de Compostela Tourism site.
Santiago de Compostela Tourism has a number of tourist information offices and kiosks, including one in the center of town at Rúa do Vilar 63 and another at the airport. For a complete list, see the clickable links on this page.
For general information about the city, read Wikipedia's article.
Finally, if you need help in planning a walk along the Way of St. James, see the Santiago de Compostela pilgrimage links that accompany our book review of The Pilgrimage Road to Santiago.
Next page: Santiago de Compostela photos
---
---
---