Santiago de Compostela
Page 3
Continued from page 2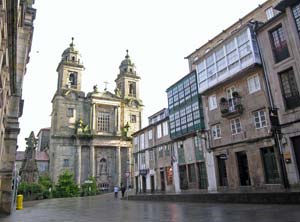 ABOVE: The Convento de San Francisco adjoins a medieval street with hotels, cafés, and souvenir shops. INSET BELOW: Chapel and palace of the Pazo de Oca.
Sightseeing and excursions
In the city:
Santiago's major tourist sights are located in the historic center, a UNESCO World Heritage Site of medieval streets and squares.
The old town's core is the Praza do Obradoiro, which is one of largest and most beautiful squares in Spain. The stone-paved plaza is dominated by the 18th Century Paxo de Raxoi (seat of the Xunta or regional government), the medieval Hostal Reis Católicos (a foundling hospital and pilgrim's hostel turned parador), the 15th Century Colegio de San Xerome (now an administrative building for the university), and the Obradoiro façade of the Cathedral, a Romansque building that was begun in 1075, largely completed by the 1300s, and given exterior Baroque and Neoclassical facelifts in the 1700s.
Of the squares on other sides of the Cathedral, my own favorite is the Praza da Quintana. This stepped plaza is built on top of a cemetery and is lined by several impressive structures, including a Baroque façade that hides the blank rear wall of the Casa de Longa. (The elaborate fake front looks convincing but is only about one meter deep.)
For more information on what to see in the old town, visit the Tourist Office in the Rúa do Vilar. Another good resource is the free city map published by El Corte Inglès, the Spanish department store, which is available at hotels and other tourist locations.
Outside of town:
Santiago de Compostela is in the heart of a scenic region, so you won't go wrong if you simply head in any direction and enjoy the countryside.

One excursion that I'd recommend, if you have a car, is the 25-km or 16-mile drive to the Pazo de Oca, a small privately-owned palace with beautifully tended gardens that locals call "the Galician Versailles."
Of less interest (but worthwhile for its ancient olive grove) is the Pazo Santa Cruz de Rivadulla, which has gardens in a more natural style.
For more excursion possibilities, see the Turgalicia Web site.
Next page: Museums
---
---
---