Santiago de Compostela
Page 4
Continued from page 3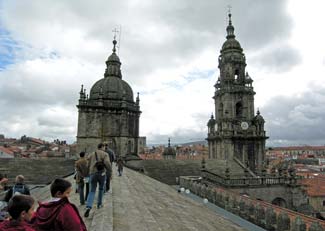 ABOVE: Visitors head onto the Cathedral's roofs during a Las Cubiertas de la Catedral tour at the Museo de la Catedral.
Museums
Santiago de Compostela has at least a dozen museums. Here are just a few:
The Museo de la Catedral, or Museum of the Cathedral, is open daily (except for Christmas, Epiphany, and a few other major holidays) near the Cathedral's main entrance on the Praza do Obradoiro. Even if you don't visit the museum itself, buy a ticket for the guided tour of the cathedral's roofs (see photo above), which takes about half an hour and is best enjoyed with rubber-soled shoes.
In the Casa Gótica on the Rúa San Miguel, the Museo das Peregrinacións celebrates the Cult of Santiago and the development of pilgrimage routes since the Middle Ages.
For history and culture with a broader theme, try the Museo do Pobo Galego, a.k.a. the Museum of the Galician People, in the former San Domingos de Boneval convent.
If art strikes your fancy, you've got several options: at one extreme is the Museo de Arte Sacro de San Paio de Antealtares (sacred art in an old monastery), with its secular opposite numbers being the Fundación Museo Eugenio Granell (a museum of surrealism) and the Centro Galego de Arte Contemporánea, or CGAG, which exhibits works by Spanish and international artists in a sleek modern gallery.
One museum that I didn't get a chance to visit, but whose name caught my eye, is the Colección de Anestesiología y Reanimación, which features old medical, surgical, and reanimation instruments.
Next page: Hotels in Santiago de Compostela
---
---
---