Europe > Rome > Cruise port > Fiumicino Airport to Civitavecchia by train
Fiumicino Airport - Civitavecchia by Train
How to reach Rome's cruise port from Leonardo da Vinci Airport (FCO) by public transportation.
From: Civitavecchia (Port of Rome)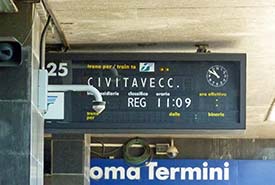 ABOVE: If you're traveling between Leonardo da Vinci (Fiumicino) Airport and Civitavecchia by rail, you'll need to change trains at Rome's Termini Station.
By Durant Imboden
To reach the Port of Rome at Civitavecchia from Fiumicino (Leonardo da Vinci) Airport by train, you'll need to take two different rail lines that connect at Termini Station in the city of Rome:
Fiumicino - Roma Termini (using either a commuter train or the faster and more expensive Leonardo Express).

Roma Termini - Civitavecchia (using either a commuter train or a long-distance train that stops in Civitavecchia on its way to other cities).
Train fares are reasonable (especially if you skip the Leonardo Express and use commuter or other second-class trains), but the journey can take two to three hours with the connection at Termini Station in Rome.
If you're pressed for time, or if you're traveling with excessive luggage, you may want to consider splurging on a coach transfer from your cruise line or a private car transfer between the airport and cruise port.
For details on train travel, please see these articles:
For articles about Civitavecchia and its cruise port, please go go our Civitavecchia (Port of Rome) index page.
Tip: Civitavecchia is a pleasant seaside resort, and if you're flying in from North America or another distant continent, we recommend spending a night in the town before your cruise. (Several hotels, including our recommended Hotel de "La Ville," are along the 200m waterfront walk between the railroad station and the port entrance.)