Europe > Rome > Cruise port > Civitavecchia port transportation
Civitavecchia Cruise and Ferry Port
How to get to and from your ship in the Port of Rome.
From: Civitavecchia (Port of Rome)
By Durant Imboden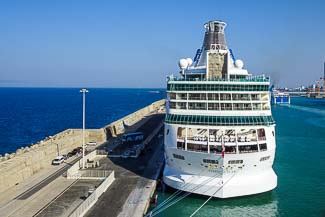 ABOVE: A cruise ship is moored along the breakwater in Civitavecchia's harbor.
The Port of Civitavecchia is what cruise lines mean when they show "Rome" on a cruise itinerary. The deepwater port, which was founded by the Roman Emperor Trajan more than a thousand years ago, is 80 km or 50 miles from the capital. Civitavecchia welcomes more than 500 cruises a year, and half a dozen ferry lines carry passengers, cars, and freight to Sardinia, Sicily, and other points in the Mediterranean.

Our accompanying Civitavecchia City Guide has information on hotels, sightseeing, museums, transportation, and other topics. For more articles about Civitavecchia, see the navigation menu at the bottom of this page or our Civitavecchia index.
What you need to know about the port:
You won't be able to walk to your ship: You'll need to arrive by shuttle bus or taxi.

Free shuttle buses run between the cruise-ship and ferry berths and a new shuttle-bus stop outside the port's walls near the Porta Tarquinia. (This is a change from past years, when shuttles ran to the Fortezza Michelangelo next to downtown. See page 2 of this article for more information.

An inexpensive city bus runs between the port's shuttle-bus stop and Civitavecchia railroad station, which has frequent trains to Rome and from Rome.

Airport transportation: There is no direct train service between Civitavecchia and Rome's two airports. If you aren't in a hurry, you can connect through Rome. See our Fiumicino Airport - Civitavecchia and Ciampino Airport - Civitavecchia articles.

If your mobility is limited, or if you're cruising with heavy luggage, you may want to consider buying a coach transfer from your cruise line or booking a private car transfer between the port and the airport or your hotel in central Rome. (The trip may take an hour or longer, depending on traffic.)

If you're departing from Civitavecchia by car ferry, you can enter the port by either the north or south entrance, depending on whether you're arriving via the SS1 or the A12. Once you're inside the port, follow the electronic destination signboards, road signs, or ferry-company signs to your ship's berth. (Your ferry line's Web site will also have port information.)

For an overview of the port, zoom in on Google's satellite photo map. The cruise-ship berths are just inside the breakwater on the photo.
More port information:
Next page: Shuttle Buses
---
---
---
---
---