Whether you're going into Rome for a day of sightseeing or at the end of a cruise, the Civitavecchia-to-Rome train is an easy way to reach the city from the port--assuming that you aren't overloaded with baggage. (If you're traveling with multiple suitcases, or if you're headed directly for the airport, you may prefer the convenience of your cruise line's coach transfer or a private car transfer.)
Here's a step-by-step guide to traveling from Civitavecchia to Rome by train:
1. Go to Civitavecchia's railroad station.
| | |
| --- | --- |
| | LEFT: Civitavecchia's railway station is a short bus ride from the port. |

From your ship, take the free shuttle bus to the stop outside the port walls. There, you can catch an inexpensive shuttle bus to the train station.
If you want more detailed directions or a printed map, stop at the tourist office's Infopoint kiosk at the shuttle-bus stop.
2
. Choose a station in Rome.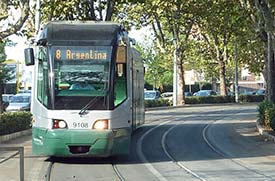 ABOVE: A No. 8 tram to the city center passes Trastevere Station in Rome.
Most trains from Civitavecchia to Rome complete their journey at Roma Termini, the city's main railroad station and the hub of Rome's public-transportation network.
However, many trains also stop at intermediate stations such as Roma San Pietro (close to the Vatican) and Roma Trastevere (where you can catch the No. 8 tram to the Centro Storico). Depending on where you're headed, you may prefer to finish your journey at one of these stations.
3. Check the timetable.
In the station, look for a yellow Partenze (Departures) table that shows train times and platforms. Or click here to view printable timetables in PDF format (courtesy of Massimo Rimondini) and check the platform number when you're in the station.
Trains depart for Rome at least twice an hour from early morning until late in the evening. Nonstop trains take about 45 minutes to reach Roma Termini; commuter trains, which stop at intermediate stations, usually require 1 hour 15 minutes or longer to cover the same distance.
Tip: Double-deck regional commuter trains have large vestibules that are convenient for stowing bulky luggage, as long as you remember to keep your suitcases out of the traffic path and within your line of sight during the journey.
4. Buy your ticket.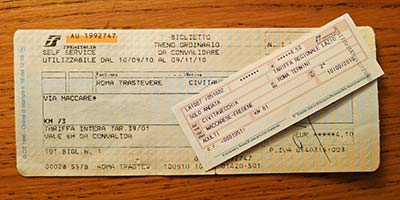 ABOVE: A Rete Regionale ticket is superimposed on a national FS railroad ticket.
You can buy tickets in several ways:
At the ticket counter. Look for a window just inside Civitavecchia's station entrance. (The clerk may or may not speak English.)

At the station newsstand. This can save time if there's a line at the ticket counter.

From a Trenitalia ticket machine. Trenitalia's "Biglietto Veloce" vending machines have multilingual menus, and the large tickets they produce can be used on national or regional trains. (See our step-by-step "how to buy a ticket" instructions.)

From a Rete Regionale ticket machine. These machines require fewer steps to purchase a ticket than the Trenitalia machines do, but menus are in Italian only. (Look for a regional ticket machine along the front wall of the Civitavecchia station as you enter.)
Also:
On IC and other national trains, you'll need to decide between a second- and first-class ticket. (First class is about 50 percent more expensive, but you get a little more space and the car may be less crowded.)

You can buy a one-way or roundtrip (return) ticket, depending on your travel plans.
Please note: You do not need to buy tickets online before your arrival in Civitavecchia. The Civitavecchia-Rome line is a commuter route, with plenty of departures and no reserved seats on trains.
5. Find the platform, stamp your ticket, and board your train.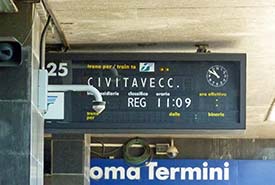 ABOVE: A regional train's departure platform at Termini Station.

Look for a yellow Partenza (Departures) table or an electronic sign in the railroad station to find the platform number for your train.
Important: When you reach the platform, validate your ticket in the yellow stamping machine before boarding the train. Otherwise, the conductor can charge you a hefty fine.
6. Get off at the correct station in Rome.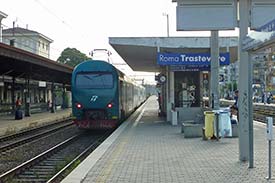 ABOVE: A train arrives in Roma Trastevere station.
If you're going to Roma Termini, just stay on the train until it reaches the end of the line and everyone gets off.
However, if your destination is an intermediate station like Roma S. Pietro or Roma Trastevere, you should be ready to disembark quickly when the train arrives. (If the doors don't open automatically after the train stops, look for a green button by the doors.)
Note: If you're continuing to the airport, see: