Traveling by commuter train is the cheapest way to get from central Rome to Civitavecchia. It works best when you aren't burdened with excessive luggage.
(If you're elderly or infirm and have multiple suitcases, you're better off splurging on your cruise line's coach transfer or a private transfer by car.)
Note: If you're coming into the city from the airport before heading for Civitavecchia, please see our advice on ground transportation from:
Here's our step-by-step guide to using the train between Rome and Civitavecchia:
1. Pick your departure station.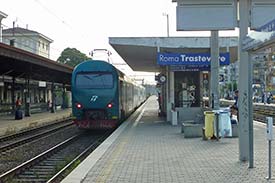 ABOVE: Trastevere Station in Rome.
Trains to Civitavecchia depart from the main Termini Station in Rome, often with stops at Roma Tuscolana, Roma Ostiense, Roma Trastevere, and Roma San Pietro (close to the Vatican) on their way out of the city.

Termini is convenient if you're near a Metro stop in Rome, since all Metro lines converge at Termini.
However, if you're at a hotel in Trastevere, Trastevere Station will be more convenient. (And if you're at a hotel in the Centro Storico south of the Piazza Navona and the Pantheon, you can take the No. 8 tram from Torre Argentina to Trastevere Station, which is more pleasant than riding a city bus.)
2. Check the timetable.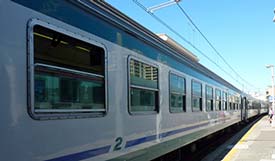 ABOVE: A second-class car on a fast train.
Trains between Rome and Civitavecchia run about twice an hour in each direction. (See printable timetables in PDF format, thanks to Massimo Rimondini of Italy.)
Some trains don't stop at secondary stations in Rome, so check the timetable carefully if you aren't leaving from Termini.
Fast InterCity and other national trains generally travel nonstop between Termini and Civitavecchia on their way to more distant cities. Travel time is short: about 41 minutes.
Rete Regionale or regional commuter trains stop at half a dozen or more stations in the city and suburbs, and travel time can be as long as 1 hour 17 minutes.
Tip: Double-deck regional commuter trains have large vestibules that are convenient for stowing bulky luggage, as long as you remember to keep your suitcases out of the traffic path and within your line of sight during the journey.
3. Buy a ticket.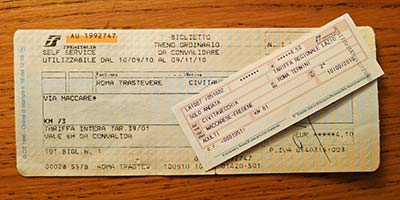 ABOVE: A Rete Regionale ticket is superimposed on a national FS railroad ticket.
Important: You do not need to buy a ticket before you arrive in Rome. Rome to Civitavecchia is a commuter route with frequent departures, and trains don't have reserved seats. Here's where you can buy tickets in Rome:
At the ticket counter. This is easy in smaller stations, but at Roma Termini, ticket lines are often long.

From a newsstand or tobacconist. In Termini, Trastevere, and many other stations, it can be quicker to buy tickets at an edicola or a tabaccio than at the station ticket counter.

From a Trenitalia ticket machine. The Trenitalia "Biglietto Veloce" vending machines have multilingual menus, and the large tickets they produce can be used on national or regional trains. (See our step-by-step "how to buy a ticket" instructions.)

From a Rete Regionale ticket machine. These machines require fewer steps to purchase a ticket than the Trenitalia machines do, but menus are in Italian only.
Also:
On IC and other national trains, you'll need to decide between a second- and first-class ticket. (First class is about 50 percent more expensive, but you get a little more space and the car may be less crowded.)

You can buy a one-way or roundtrip (return) ticket, depending on your travel plans.
4. Find the platform, stamp your ticket, and board your train.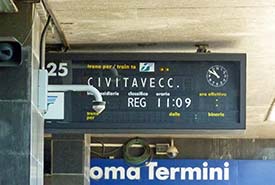 ABOVE: A regional train's departure platform at Termini Station.
Look for a yellow Partenze (Departures) table or an electronic sign in the railroad station to find the platform number for your train.
5. Get off the train in Civitavecchia.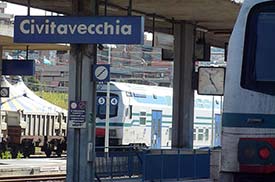 ABOVE: A platform in the Civitavecchia railroad station.
If you're on a regional commuter train, Civitavecchia will be the end of the line. However, if you're riding a national train, you'll need to pay attention and be ready to get off at the Civitavecchia station.
Note:
You can take an inexpensive shuttle bus from the train station to the port's shuttle-bus stop. For more information, see page 2 of our Civitavecchia Cruise and Ferry Port article.

Several good hotels, including our recommended Hotel de "La Ville," are along the street between the station and the port.

To get your bearings, see Google's satellite photo map of central Civitavecchia. (The railroad station is marked with a train icon; the port entrance is just to the right of the fortress on the left side of the photo.)