ABOVE: Look to the left, beyond Marco Polo Airport's control tower, and you'll see Venice's historic center across the Venetian Lagoon.
From Venice Marco Polo Airport

Alitalia, KLM, easyJet, and other major airlines fly into Marco Polo Airport, also known as Venice International Airport (airport code: VCE), which is 6 km or 4 miles from the city on the Venetian lagoon.
When you've claimed your baggage and obtained a free luggage cart, go to the money-exchange window and buy euros. Better yet, use the Bancomat (ATM), where you're likely to get a better exchange rate. (But read our Europe for Visitors article on ATM conversion fees before you leave home.)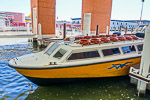 At the ground-transportation ticket counter, purchase a Venice airport boat ticket to the Piazza San Marco or any of several other stops in the historic center. (See our Venice Airport Boat article for details.)
Alternatively, you can ride an ATVO or ACTV airport bus to reach the Piazzale Roma. Buses are cheaper than the Alilaguna boat, and the Piazzale Roma may be more convenient to your hotel. (Check your hotel's map ahead of time.)

If you prefer a cab, figure on paying up to €50 for a land taxi to the Piazzale Roma or €110-120 for a water taxi to your hotel. (The latter sounds expensive but can be affordable if you're splitting the cost with friends.)
It's also possible to book private transfers that include someone to meet you in the arrivals terminal, porterage service, and a van or car to the water-taxi pier. For details on these and other prebooked transportation services from our advertising partner, Viator, click here.
Finally, if you're staying on the mainland in Mestre, you can take a Mestre airport bus from VCE to the Mestre railroad station.
For more detailed information and links to transportation services, read these articles:
Important tip: If you're departing from Venice's Marco Polo Airport at the crack of dawn, read our article about Early Flights from Venice Airport.
From Treviso Airport

Ryanair and Wizz Air use two airports, with the bulk of Ryanair's arrivals and departures at Treviso Airport (several dozen kilometers from Venice). Please see: