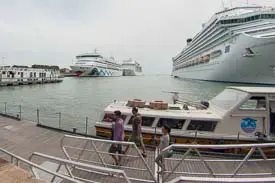 ABOVE: An Alilaguna airport boat (foreground) in the Marittima cruise basin.
Venice cruise terminals

Traditionally, most cruise ships have arrived at either the Marittima terminal buildings (see photo above) or the secondary San Basilio and Santa Marta piers (inset photo), which cater mostly to smaller cruise ships and river vessels.
But: in 2021, the Italian government banned all but the smallest cruise ships from central Venice, and chaos has reigned ever since. Your ship may arrive and depart from an industrial pier in Marghera (on the Italian mainland) or in another city altogether, such as Ravenna or Trieste. For more information, see our article about Venice cruising changes.
The only good news: Most ships smaller than 25,000 GRT (including river vessels from Uniworld, CroisiEurope, and European Waterways)  continue to use Marittima or San Basilio/Santa Marta for arrival and departures.
As a bonus, river boats and hotel barges often spend a couple of nights moored on the Riva or waterfront promenade next to Venice's public gardens above the Piazza San Marco. This is a great location, since you can easily walk along the water to the Piazza San Marco in about 15 minutes without getting lost.
For more cruise information, see these articles:
Venice ferries and hydrofoils
If you're arriving on an Anek Lines ferry from Greece, you'll disembark at Terminal Fusina on the Italian mainland. From there, you can drive to Mestre or Venice for parking, or--if you're traveling without a car--you can take a passenger boat to the city center.
Another company, Venezia Lines, operates high-speed catamarans between Croatia and Venice. The hydrofoils normally arrive and depart at the San Basilio Cruise Terminal in the city center.