Venice > Transportation | Bicyles
Bicyling in Venice, Italy
In central Venice, riding or even pushing a bike is illegal--but you're free to cycle on the Lido di Venezia, Venice's island beach resort.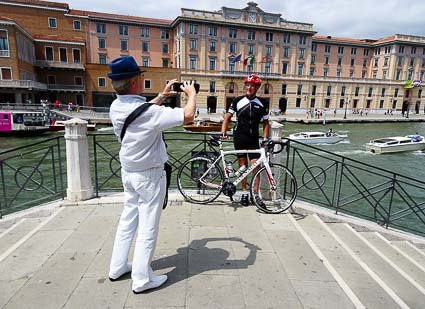 ABOVE: A clueless bicylist poses while a passerby documents his crime.
---
Most visitors to Venice know that the city's historic center or centro storico is car-free. But it's important to emphasize that bicycles are also forbidden. If you ride, push, or carry a bike through the streets of central Venice, you'll be risking a 100-euro fine.
There is one exception: You can push or carry your bike between the Venezia Santa Lucia railroad station and the Piazzale Roma via the Ponte di Costituzione or Calatrava Bridge. This is handy if, for example, you arrive in central Venice by train and want to park your bike at the Piazzale Roma.
Bringing a bicycle to Venice:
For a trouble-free visit, choose one of these options:
Stay at a hotel in Mestre or Marghera, on the Venetian mainland, and commute to the city center by train, tram, or bus.

Check our Mestre-Marghera hotel listings to find hotels with parking, or use the 800-spot AVM Bici Park Mestre at the Venezia Mestre railroad station. It's open Monday through Saturday from 6 a.m. to 11 p.m.

Cycle on the 4-km/2.5-mile causeway from Mestre to Venice's Piazzale Roma (at the edge of the historic center) and park your bicycle in one of the 100 secure boxes at the Municipal Garage. Click here for details and reservations.

You'll find a number of convenient hotels by the Piazzale Roma, close to the Bici Park Venezia on Level -1 of the Autoremissa Comunale parking garage.

From the Piazzale Roma, it's easy to reach the sights by walking or public water bus (including the popular Linea 1 vaporetto, which zigzags up the Grand Canal to the Rialto Bridge, the Piazza San Marco, and beyond.)
Stay at a hotel on Venice's island beach resort, the Lido di Venezia, which you can reach by the Venice-Lido car ferry or by from Chioggia at the southern end of the Venetian Lagoon.

If you're coming from Chioggia, you have two options: Take the Linea 11 public water bus all the way from Chioggia to the Lido, or (for more scenery) take the Linea 11 water bus from Chioggia to Pellestrina and cycle the remaining distance to the Lido. (This route involves a short ferry crossing at Alberoni, south of the Lido.) Click here and scroll to download a map and timetable for the Linea 11 water bus, and see this page about the bicycle route.

Alternatively, you can reach the Lido via the Linea 14 motonave or public water bus from Punta Sabbioni at the northern end of the Venetian Lagoon. Click here and scroll to download a map and timetable for Linea 14.

Warning: On Linea 11 and Linea 14 water buses, bicycles are transported at the captain's discretion (based on how many passengers and bicycles are competing for space on the boat). This is likely to be more of a problem on Linea 11, since Linea 14 uses double-deck vessels that carry up to 1,200 passengers.
---
More photos and facts: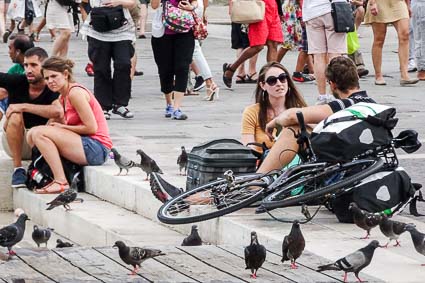 ABOVE: In central Venice, bicyclists are even less welcome than pigeons. (And unlike pigeons, illegal cyclists can be smacked with 100-euro fines.)
---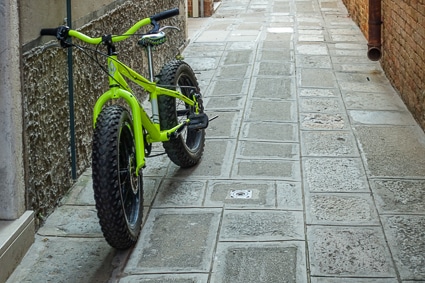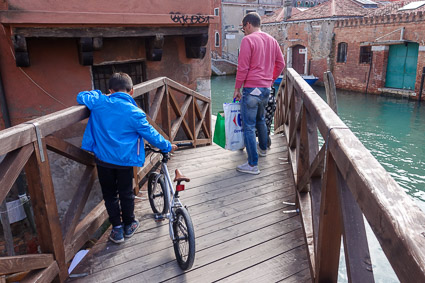 ABOVE: If you see a bicycle in central Venice, it probably belongs to a child. (Local kids can get away with using bicycles, tricyles, roller skates, hoverboards, and other wheeled transportation.)
---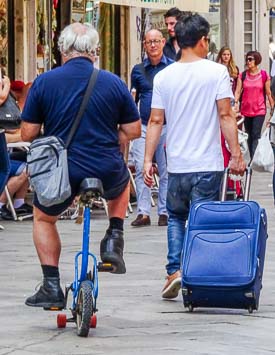 ABOVE: Riding a unicycle, with or without training wheels, is a risky workaround for Venice's "no bicycles" policy.
---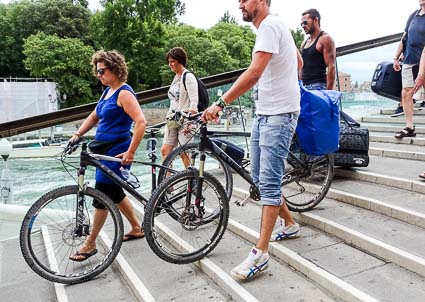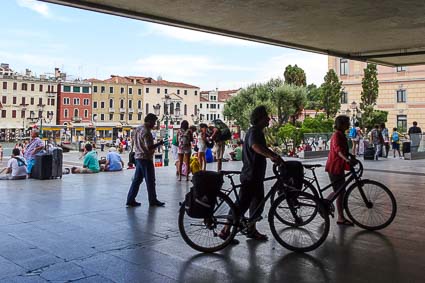 ABOVE: It's okay to push your bike from the Piazzale Roma to the Venezia Santa Lucia railroad station (or vice versa). But don't get on the bike, or the police are likely to pounce.
Tip: If you arrive on a folding bicycle and have a bag for it, you can take the bike (in its bag) on local water buses upon payment of a second fare.
---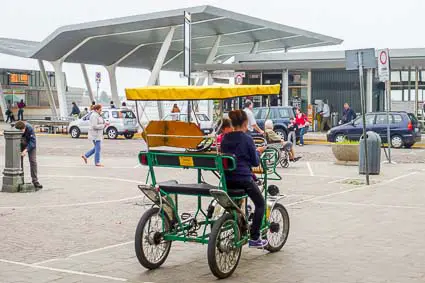 ABOVE: On Venice's island beach resort, the Lido di Venezia, it's legal to ride bikes. You can hire standard bikes, tandems, and quadricycles from Venice Bike Rental, which is 400 meters from the Lido Santa Maria Elisabetta waterbus stop (shown above).
---
Also see:
---
About the author:

Durant Imboden has written about Venice, Italy since 1996. He covered Venice and European travel at About.com for 4-1/2 years before launching Europe for Visitors (including Venice for Visitors) with Cheryl Imboden in 2001.

PC Magazine has called this "the premier visitors' site for Venice, Italy." Over the years, it has helped more than 30 million travelers. For more information, see About our site, our Europe for Visitors press clippings, and our reader testimonials.
---