Venice > Transportation > Santa Lucia RR Station > Arrivals
Venice Railroad Station
Page 2
Continued from page 1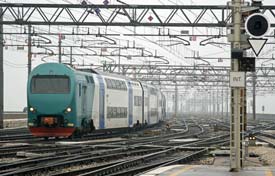 ABOVE: A regional commuter train approaches Santa Lucia station from the Venetian mainland.
Arriving in Venice by train
When you arrive at Santa Lucia, your train will pull into one of two sheds:
The main train shed is directly behind the station hall or lobby. Most long-distance trains arrive here.

Another set of railway platforms is to the right of the station as you arrive from the mainland; this is used mainly by local and regional trains. To reach the station hall, bear left as you leave the train platform.
From the station hall, exit via the main doors. Steps and a ramp lead down to a broad terrace alongside the Grand Canal, where you'll find the vaporetto landing, water taxis, and the main pedestrian thoroughfare to the city center.
Tips:
If you're traveling with wheeled luggage, a stroller, or a wheelchair, you may find it easier to bypass the crowded station hall on your way out. In the main train shed, head toward the toilets near the left end of the station and go through the passage at the corner. Once you're outdoors, turn right at the sign and and follow the pavement down to the canal. See our photo guide to the  wheelchair, stroller, and wheeled-luggage exit for more details.

The Venice Tourist Office operates a small branch inside the station, but it tends to be busy, and the staff aren't always helpful. If you see a long line, skip the tourist office and buy a map at a newsstand or bookstore instead.
If you need to buy euros, ignore the "Change" booths and withdraw money from a bank ATM away from the station. You'll get a better rate. (But read our Europe for Visitors money articles before you leave home.)

If you need to park luggage during your stay in Venice, see our FAQ: Baggage storage page.

If you're headed directly to the airport, see: Railroad Station to Marco Polo Airport.
Next page: Departing by train
---
---
---
---
About the author:

Durant Imboden has written about Venice, Italy since 1996. He covered Venice and European travel at About.com for 4-1/2 years before launching Europe for Visitors (including Venice for Visitors) with Cheryl Imboden in 2001.

PC Magazine has called this "the premier visitors' site for Venice, Italy." Over the years, it has helped more than 30 million travelers. For more information, see About our site, our Europe for Visitors press clippings, and our reader testimonials.
---
Top photo copyright © onfilm.