Venice Railroad Station
Page 4
Continued from page 3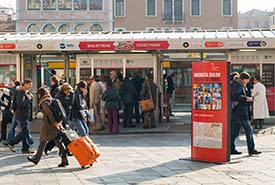 ABOVE: ACTV, Venice's public-transportation company, has a ticket booth on the Grand Canal near the vaporetto platforms. (Warning: Lines can be horrendous on weekends or in high season. If possible, use the multilingual ticket machines.)
Local transportation from the train station
As you emerge from the railway station, you'll have three options for reaching your hotel or other lodgings:
By water bus. At the ACTV ticket booth near the water, you can buy tickets (biglietti) and 12-hour to seven-day Tourist Travel Cards. For more information on using Venice's maritime public-transportation system, see our articles on vaporetto routes and vaporetto fares. (Related topics are covered in our Venice transportation index.)
By water taxi. Although you can hire a water taxi near the station, you'll pay a horrendous fare, and the water taxi may not be able to get you all the way to your destination (not all hotels are on canals). See our Venice water taxis article for more advice and an advance-booking link.
On foot. Depending on where you're staying, you'll need to head left past the Scalzi church (for Cannaregio, San Marco, or Castello) or across the Grand Canal by bridge (for Santa Croce, San Polo, and Dorsoduro). Buy a good map in the station before you set out, because you're likely to get lost at least once or twice unless you're staying close to the railroad station.
Tip:
Our Venice Railroad Station Hotels article has advice on hotels within easy walking distance of the station. If you're staying in Venice for only a day or two, or if you're leaving on an early train, you're likely to appreciate the convenience of a hotel nearby.