Norwegian Jade cruise review
Page 8
Continued from page 7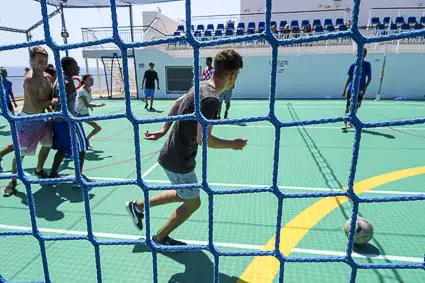 More amenities and activities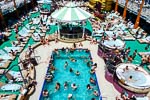 Things to do
On a large ship like Norwegian Jade, it's hard to describe the daily range of activities without having it read like a laundry list, so we'll just present a sampling of what we observed during our cruise:
Sports activities were surprisingly popular, despite the July heat.
The outdoor court on Deck 13 usually had people playing basketball and soccer (sometimes at the same time). Some matches were scheduled (such as passengers-vs.-crew games), but pickup games were also commonplace. The court can be used for tennis, although we didn't see any tennis players during our trip.

Other organized games, such as water volleyball and a table-tennis tournament, took place around the swimming pools. There was even a "Mr. Biceps Competition" for passengers who were more interested in showing off their muscles than using them.
Traditional cruise-ship activities such as Bingo and Art Auctions, were on the menu, and passengers who needed to depreciate their assets could visit the Casino during evenings and sea days.
Some activities did double duty as entertainment: Passengers could attend demonstrations in cooking or how to make towel animals, and a "Battle of the Cake Masters" between the ship's executive chef, the pastry chef, and a passenger named Kathy drew a large crowd in the Atrium.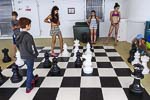 One of our own favorite activities was to go walking on the Promenade Deck with its lifeboats, views of the sea, and deck games of chess and shuffleboard. (Smoking was allowed on the Promenade Deck, but only in a designated area.)
Passenger services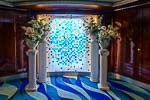 Norwegian Jade has a non-denominational Chapel on Deck 13, near the Spinnaker Lounge. It can be reserved for weddings or vow renewals, but most of the time it's just a quiet place for prayers or meditation.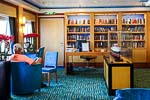 We visited the Library on Deck 12 fairly often during our cruise. The Library has a reasonable selection of hardcover books, comfortable chairs for reading, a collection of memorabilia from the S.S. United States, and desks facing the water (some with computers, some for laptop users). A Card Room is next door.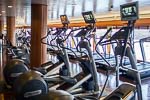 The Fitness Center is next to the Spa & Salon on Deck 12. Its exercise machines face large windows overlooking the bow and the sea. One deck up are a Jogging/Walking Track and Golf Driving Nets.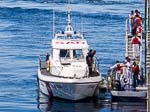 Durant visited the Medical Center on Day 8 of the cruise. He was treated promptly and came away with a selection of pills and a receipt for USD 247. (The Medical Center can handle most routine complaints; seriously ill or injured passengers are sent ashore for treatment--by ambulance if the ship is in port, or by Coast Guard boat or helicopter in emergencies at sea.)
The Photo Studio displays pictures of passengers taken by the ship's photographers, which are available for purchase. Photo services and items such as photo frames are also available.
Next door, the Internet Café offers satellite Internet access (by the minute or in packages) and will print documents from your computer.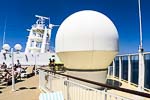 Note: Internet access at sea is much slower than on land, and some services--such as Skype--aren't practical or aren't available. If Wi-Fi performance in your cabin is unacceptable, try a public area with stronger Wi-Fi coverage, such as the Library or the Spinnaker Lounge.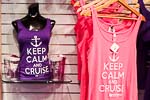 Finally, we'd be remiss if we failed to mention Norwegian Jade's Gift Shops. The main shop, at the stern of the ship on Deck 7, carries everything from toiletries and candy to ship souvenirs, clothing, and jewelry. Another shop is located aft of Guest Services on the same deck.
Next page: Children's programs
---
---
---
---