Sorrento
From: Wind Surf Cruise Review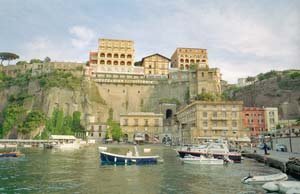 Sorrento was a three-hour cruise from Amalfi, and Wind Surf was scheduled to arrive at 3 p.m. and depart an 7 a.m. the next morning.

The town of Sorrento has a less dramatic setting than Amalfi does, being spread out along the top of a cliff with mostly 19th and 20th Century buildings visible from the sea. Ships' tenders and hydrofoil ferries from Capri land at Marina Piccola, with public shuttle buses connecting the small port to the town.

I didn't mind the two-euro bus fare, but I did mind waiting for the next bus, so I climbed the 200 steps (interspersed with short stretches of twisting road) from the boat landing and hydrofoil port to the Piazza di Tasso in the heart of Sorrento.
Sorrento isn't a picturesque town, and its history--though long--isn't obvious to the visitor. Much of the town runs along the Corso Italia, a street of stores, hotels, and constant automobile and motorscooter traffic.

The parallel streets below the Corso Italia are more appealing, with tiny shops and market stalls that cater to tourists and people from the surrounding area. Leather can be a good buy, and there are plenty of other quality goods to tempt the acquisitive traveler.

Sorrento has a couple of large churches--the Cathedral on the Corso Italia and the Basilica di San Antonio on the Piazza of the same name, which you'll pass on your way to or from Marina Piccola.
My advice: If you want to see the sights, leave town, which is easy to do with hydrofoils leaving for Capri and Naples from a pier near the tender landing. Or book a day tour, if you're arriving by cruise ship.
Shore excursions. Windstar offered two aftertoon tours from Sorrento during our visit. One was a 4-hour boat trip to Positano, with a bit of leisure time for shopping or exploring, and the other tour was a 4-1/2-hour excursion to Pompeii.
For a comprehensive introduction to Sorrento, visit the official Web site of the Sorrento/Sant'Agnello Tourist Information Office, Sorrentotourism.com.
Next page: Capri
---
---
---
---