Wind Surf Cruise Review
Page 7
Continued from page 6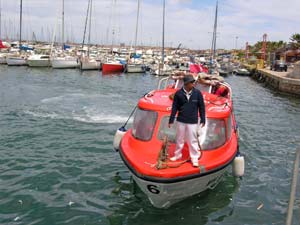 ABOVE: A tender brings passengers ashore in Alghero, Sardinia. INSET: Rocks and sea at Capo Caccia on the "Alghero Discovery" tour.
Shore excursions
Sightseeing is a major component of "port-intensive" cruises, and Windstar does a good job of serving passengers who want to make the most of their time on shore.
The day before each port visit by Wind Surf, the shore-excursions ("shorex") manager gives a brief port talk before dinner. If you miss the port talk, no problem: When you get back to your stateroom after dinner, you'll find a port-information sheet and a map on your bed with the daily ship's newsletter. The sheet typically describes the port and its history, and it includes practical information such as shopping hours, bank and ATM locations, the hourly cost of touring by taxi, and where to find the local tourist office.

The shore-excursions department also offers coach and/or walking tours in most ports. Typically, these last four to five hours and have prices in the US $60-80 range. I sampled one trip, "Alghero Discovery," a four-hour bus excursion to the Nuraghe Palmavera (a Sardinian archaeological site) followed by the scenic overlook at Capo Caccia and a walking tour of Alghero's Old Town. The local guide was knowledgeable, and the tour gave me the chance to visit out-of-town sites that would have been expensive or inconvenient to reach on my own.
You can also arrange chauffeured cars and private excursions with the shorex manager. If you're traveling with several companions, this can be a better value than a coach tour. The cost may be slightly more than you'd pay if you made your own arrangements, but there's something to be said for hassle-free booking and peace of mind.
Next page: Crew and service
---
---
---
---