Wind Surf Cruise Review
Page 3
Continued from page 2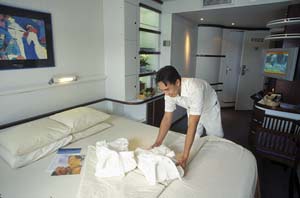 Staterooms and suites
Staterooms. Wind Surf has 123 staterooms (mostly on Decks 1 and 2), with queen-size beds that can be converted to twins on short notice. Each stateroom measures 188 square feet or 18 mē, and each has two portholes. Cabins 117 to 139 have optional third berths.

I was impressed by the decor of stateroom 139, which could have been copied from a modern (and spacious) French yacht. The bathroom was especially attractive with its three-circle design of round shower stall, central sink/mirror area, and toilet section.

The cabin's main area had generous closet space (complete with two thick bathrobes), a desk with multiple 120v and 240v power outlets underneath, a flat-screen TV, chairs (no sofa), and a queen-size bed that had been upgraded with Windstar's new-generation mattress and linens. Shelves next to the bed had room for miscellaneous items, a DVD player, and a Bose SoundDock for iPods. (See Entertainment on Wind Surf.) Not just one, but two safes were hidden behind a cabinet door, and lifejackets were conveniently stowed in a unit high on the wall opposite the bed.
Suites. Wind Surf's 31 suites are on Deck 3, just one flight of stairs (or one elevator stop) away from the Main Deck. The suites are basically back-to-back staterooms with the adjoining wall removed and a sitting area on one side. Every suite has a third berth that can be opened if you're polygamous or traveling with a child or grandchild. Couples can save time in the morning with the "his and her" bathrooms, or one shower can be dedicated to drip-dry laundry.
Accessibility. Unlike Windstar's smaller vessels, the Wind Surf has elevators, so passengers who use canes or walkers can easily get up and down. However, cabins aren't wheelchair-accessible, some doorways have high sills, and passengers with limited mobility may find it difficult to use the tenders and steep gangways that are often required in smaller ports.
Next page: Wind Surf dining
---
---
---
---