Wind Surf Cruise Review
Page 4
Continued from page 3
By Durant Imboden
Dining
Wind Surf caters to North American, European, and Antipodean appetites with a good range of dining options: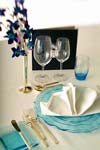 The Restaurant. The ship's dining room is on the Main Deck and serves five-course dinners from 7:30 to 9:30 pm. The atmosphere is elegant without being formal (no suits or gowns required). I was more than pleased with the quality of the food, and I didn't hear any complaints about the generous portions. See sample menu.
The Bistro. Wind Surf's 124-seat alternative restaurant is located on the Star Deck, the highest passenger deck on the ship. The Bistro is a steakhouse on four nights out of seven; the remaining three evenings have French, Italian, and Indonesian themes. Dinner is by reservation only, but there's no additional charge. See sample menu.
The Veranda, an attractive self-service restaurant just aft of The Bistro, offers breakfast and lunch. In warm weather, you can take your meal outdoors, where waiters serve drinks and a grill station cooks burgers and other sandwiches to order. On most days, the Veranda has both a regular buffet line and a theme buffet such as Italian, Spanish, Greek, Mexican, or the popular Lobster Lunch.
The Compass Rose. This bar on the Bridge Deck serves a cold breakfast buffet of breads, pastries, cereals, ham, cheese, and fruit from 6 to 11 a.m. each day. If you aren't into eggs or oatmeal, it's a pleasantly quiet alternative to the Veranda, where outdoor tables go quickly during the morning rush.
Afternoon tea is also served in the Compass Rose. Sandwiches and pastries are standard fare, and the menu occasionally features specialties such as waffles with ice cream or Kaiserschmarrn.
The Pool Bar has hot dogs and other snacks from 11:30 a.m. to 4 p.m. most days.
Room service is available 24 hours a day, either from the standard room-service menu or--at dinnertime--from the Restaurant's nightly menu. Wind Surf has folding tables in the cabins, allowing five-course dinners (including special romantic or honeymoon dinners) to be served course by course.
Finally, the Wind Surf's signature Mediterranean Night Buffet is a dinner that shouldn't be missed. The meal is served in the Lounge, with vast quantities of shrimp, crab legs, pastas, antipasto selections, hot buffet dishes, and even a roast suckling pig. A dessert buffet (not unlike the Chocolate Buffet served on another night during the cruise) wraps up the repast.
Drink
Wind Surf has a good assortment of indoor and outdoor bars, and you can get anything from a Coke to a Cognac from 10 a.m. (when the Pool Bar opens) until the Lounge, Compass Rose, and Terrace Bar close in the wee hours. Wine is available by the bottle or glass at dinner.
Staterooms and suites have minibars, but if you want a soft drink, your cheapest option is to use the vending machine in one of the staircases.
Alcohol policy: Windstar's rules are a mixed bag for boozers. Wine purchased ashore can be consumed on board, but hard liquor must be surrendered at the gangplank for storage during the voyage. (The storage rule also applies to duty-free liquor from the Wind Surf's own shop.)
Next page: Entertainment
---
---
---
---