Torcello is where Venice began: It's an island in the northern part of the Venetian Lagoon, across from Mazzorbo and Burano, and at one time--more than 1,500 years ago--it was the largest and most important settlement in the lagoon, with a population of 20,000 or more.
(See the Torcello section of our Venice Islands Tour article, which tells how to reach the islands by public transportation.)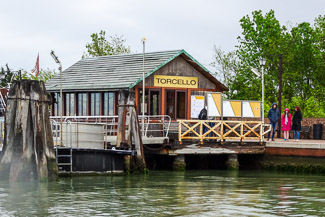 Today, only a handful of people live on Torcello, but it's a fascinating place to visit. Attractions include the Basilica of Santa Maria Assunta (a cathedral dating back to 639 AD), the adjacent Church of Santa Fosca, and a Campanile or bell tower that offers fine views of the island and the channels that wind through land and mudflats that are submerged at high tide.
The Torcello waterbus station is served by:
ACTV Lines 9, 12, N public water buses
Note: