Venice > Links > Sightseeing & culture
Venice Sightseeing and Culture
From: Venice Links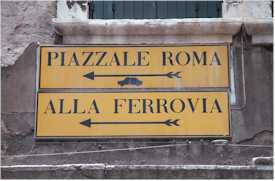 ABOVE: Directional signs help tourists find their bearings while exploring Venice.
General articles
Venice's Top 11 Free Sights veniceforvisitors.com
Many of the city's greatest experiences won't cost you a euro--and by trimming your sightseeing costs, you'll have more cash left over for room, board, and shopping.

Sightseeing and Places of Interest veniceforvisitors.com
From Venice for Visitors, an index of illustrated articles on everything from the Piazza San Marco to an island cemetery where graves are recycled after 12 years.

Venice Gondola Serenade Tour veniceforvisitors.com
It sounded like kitsch, but floating down a canal with a baritone and a guitarist in the next gondola turned out to be fun--and maybe even a little magical.

Amerigo Vespucci Sailing Ship veniceforvisitors.com
From time to time, the Italian Naval Academy's three-masted training ship comes to Venice. If you see it during your visit, ask about public tours.

Serra dei Giardini veniceforvisitors.com
The Serra dei Giardini is a restored 19th Century greenhouse near the Venetian waterfront where you can buy flowers, shop for plants, and--of most importance to visitors--enjoy a drink or a snack in the delightful coffee shop.
City tours and land excursions
Viator Tours & Excursions: Venice our partner
Prebook city tours, gondola rides, and regional day trips online before you leave home. Viator also has transfer services--e.g., from the airport to Venice's cruise terminals and from the cruise pier to hotels. (Prices are guaranteed in euros, British pounds, and U.S. or Australian dollars.)

Venice Tours, Transfers, and Day Trips veniceforvisitors.com
This page lists guides and companies that offer private tours and water experiences (such as rowing, kayaking, and day trips by boat).

Venice Free Walking Tour
The Association 360 Gradi (360° Association) offers walking tours of about 3.2 km (2 miles) at 10 a.m. and 5 p.m. Participation is free, although a donation is encouraged.

Ca' Foscari Tours veniceforvisitors.com
One of Venice's top sightseeing bargains is a 60-minute tour of a former doge's palace (now a university administration building) on the Grand Canal.

Gran Teatro La Fenice veniceforvisitors.com
"The Phoenix," Venice's jewel box of an opera house, has risen from the ashes twice after catastrophic fires: once in 1837, and again in 2003. You can tour the theatre with an audioguide.

Chioggia veniceforvisitors.com
The largest fishing and yachting town on the Venetian Lagoon is an easy day or overnight trip from Venice by car or--better yet--by boat. (Also see Venice to Chioggia by Bus and Ferry.)

Vicenza veniceforvisitors.com
The magnificently preserved home town of Andrea Palladio, one of Italy's greatest architects, is less than an hour from Venice by train.
Bridges
Accademia Bridge veniceforvisitors.com
Venice's third bridge across the Grand Canal wasn't built until 1854. The current wooden bridge (a replica of a temporary bridge from 1932) offers great views of the canal and passing boat traffic.

Bridge of Sighs veniceforvisitors.com
Lord Byron romanticized this elevated corridor for criminals, and you can cross it as a paying customer rather than as a prisoner.

Ponte della Constituzione veniceforvisitors.com
The newest bridge across the Grand Canal links the Piazzale Roma and the Santa Lucia railroad station.

Rialto Bridge veniceforvisitors.com
It isn't just a Brooklyn Bridge with boutiques. After 500 years, the Ponte di Rialto is still Venice's main traffic route across the Grand Canal.
Cemetery
To Die in Venice veniceforvisitors.com
When you gotta go, you gotta go--and dead Venetians have been going to the island cemetery of San Michele for 200 years.
Churches
Basilica di San Marco veniceforvisitors.com
St. Mark's Basilica is a treasurehouse of mosaics, plunder from the Crusades, and over-the-top Byzantine architecture, but read our tips for visitors before you wrestle with the crowds.

Santa Maria della Salute Church veniceforvisitors.com
As you stare up at the soaring dome of this magnificent basilica, remember that it owes its existence to plague-ridden fleas.

Madonna dell'Orto veniceforvisitors.com
"Venice's finest Gothic church" is a great starting point for a walking tour through one of the city's most pleasant but least touristed neighborhoods.

The Churches of Venice
Jeff Cotton has created the number one (bar none) guide to Venice's 100+ churches. It's best viewed on a computer or full-size tablet.
Musical Performances
I Musici Veneziani
Virtuosi di Venezia
These two chamber orchestras perform instrumental and operatic works in two locations within Venice's historic center. (One staple of their repertoire is the The Four Seasons by Antonio Vivaldi, the city's most famous composer.)
Other Information
A Lover of Venice
Read the article on the Venetian locations in Summertime (the David Lean movie starring Katherine Hepburn), then browse the illustrated walking tours. (The latter are linked from the bottom of the Hidden Corners page.)

History and Curiosity
Facts and trivia about history, landmarks, and traditions. From Venetia.

Palladio's Italian Villas
Venice's great Renaissance architect built grand country houses throughout the Veneto region. Many are open to the public today.
---
---