"
Can I change my Venice hotel reservation?"
When you've booked a hotel that's hard to reach, here's what do do.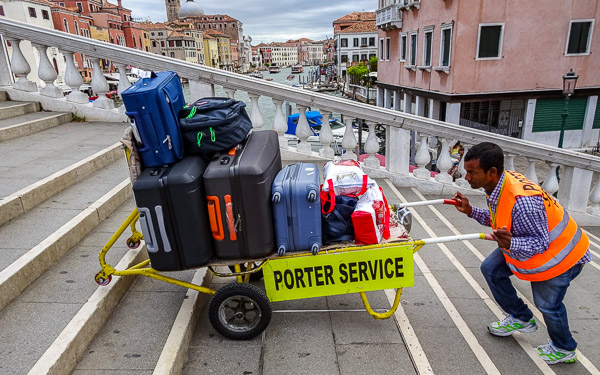 ABOVE: In a city with 400+ bridges, the wrong hotel location can be inconvenient and expensive. Fortunately, you can often rebook at a hotel that's closer to your arrival or departure point without paying a penalty.
---
In our No. 1 hotel warning article, we explain why choosing the wrong hotel or apartment location in Venice can be a costly, frustrating mistake. Disadvantages include:
If you haven't yet booked a hotel room or apartment, the solution is easy:
But what can you do if you've already booked accommodation that's hard to reach and are having second thoughts?
You have two options:
 Assuming that you're able to change your reservation, here are our suggestions on where to stay:
If you're arriving or departing by air:
Look for a hotel near Piazzale Roma (where airport buses and land taxis arrive in central Venice). See 10 hotels near airport buses or the Piazzale Roma listings from our Venice Hotel Directions.
This advice works for both Venice Marco Polo International Airport and the smaller Treviso Airport (which is used by many Ryanair and Wizzair flights).
Another option, if your flights are at Marco Polo Airport, is to travel to and from the city center on an Alilaguna airport boat. Alilaguna has boat stops at many points in central Venice, so you can avoid long walks over multiple bridges by using the Alilaguna airport boat listings from our Venice Hotel Directions.
 Also see our hotel listings for Early-Morning Flights from Venice Marco Polo Airport if you're leaving town at the crack of dawn.
---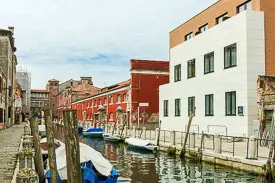 ---
If you're arriving or departing by train:
Browse the illustrated listings in our Venice Railroad Station Hotels article. (These listings are for Venezia Santa Lucia, the main railroad station in central Venice.)
---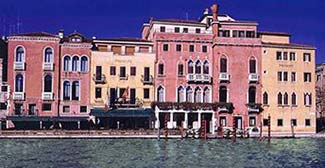 ---
If you're arriving or departing by car:
Read our articles on Parking in Venice and Venice hotels with parking.
---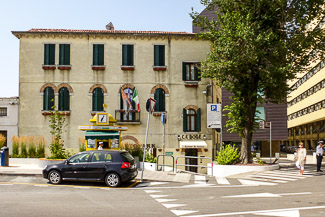 ---
If you're arriving or departing by cruise ship:
See our illustrated listings of 17 hotels near cruise ships.
---
---
About the author:

Durant Imboden has written about Venice, Italy since 1996. He covered Venice and European travel at About.com for 4-1/2 years before launching Europe for Visitors (including Venice for Visitors) with Cheryl Imboden in 2001.

PC Magazine has called this "the premier visitors' site for Venice, Italy." Over the years, it has helped more than 30 million travelers. For more information, see About our site, our Europe for Visitors press clippings, and our reader testimonials.
---