Europe > Portugal > Lisbon > Links
Lisbon - Miscellaneous Links
From: Lisbon, Portugal travel guide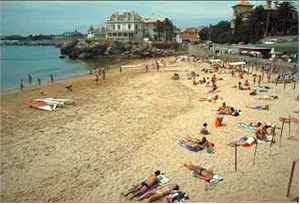 ABOVE: The beach at Estoril, a short ride by commuter train from central Lisbon.
English-language school
St. Julian's School
Moving to Lisbon? St. Julian's offers English- or Portuguese-style education and an International Baccalaureate program in Carcavelos, 12 miles (20 km) west of the city.
Gay/lesbian
Lisbon Gay Travel Guide
These pages are from Patroc Gay Travel Guide Europe, which has local gay guides for more than 20 cities in Europe.
PortugalGay Directory
You'll find all kinds of GLB businesses listed on the multilingual PortugalGay site.
Jewish Portugal
The Virtual Jewish History Tour: Portugal
Rebecca Weiner's article covers Portuguese Judaism from the 6th Century BC to the present day.
Archived Travelogues/Articles
Blast from the past:
TheTravelzine.com: Lisbon
Don and Linda Freedman describe Lisbon in a Portugal 1997 report from The Travelzine.com. Their site also has a 1999 travelogue about Northern Portugal.
Next page: Lisbon photos
---
---
---
---