Europe > Portugal > Lisbon > Transportation
Lisbon Transportation
From: Lisbon, Portugal travel guide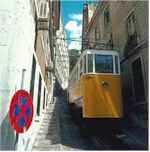 ABOVE: A funicular tram or ascensore climbs a hill in Lisbon.
General transport information
Forget about driving in Lisbon. The city's hills make navigation a nightmare, and traffic can be intimidating to visitors. (Driving in rural areas and smaller cities is much easier, so don't be afraid to rent a car and pick it up on your way out of Lisbon.)
The best ways to get around Lisbon are on foot, via Metro, or on the many tram and bus lines. Taxis are readily available, and commuter trains serve nearby resort towns like Estoril and Sintra.
General advice and public transit
Metropolitano de Lisboa
The Metro's English-language Web pages have a route map, fare information, a journey planner, and more.
CP Urban Services: Lisbon
These English-language pages at the Portuguese Railways site have timetables, ticket prices, and other information about commuter trains, including the popular Cascais and Sintra Lines.
Frommer's: Lisbon: Getting Around
The guidebook publisher covers the basics in brief.
Note: Passes from Eurail and InterRail are valid on CP, and the Lisboa Card includes transportation on Lisbon's suburban commuter lines. You can also buy day tickets from the railroad.
Automobile travel
Driving Distances from Lisbon
If you're planning to reach Lisbon by road, these distance tables will help you estimate travel times. You can translate kilometers into miles with your favorite search engine.
Long-distance train travel
Lisbon-Madrid Night Train europeforvisitors.com
The LusitŠnia Comboio Trenhotel is jointly operated by CP Portuguese Railways and Renfe Spanish Railways. Accommodations range from reclining seats to "Gran Clase" staterooms with private sink, WC, and shower.
Walking
Wear sturdy shoes with rubber soles, or you may find it hard to maintain traction on steep cobblestoned streets and sidewalks.
Be careful with strollers and baby carriages, which can be hard to control on downhill stretches. If you're old or out of shape, look for alternative routes to hilltop scenic overlooks (either on foot, by funicular or ascensore, or by tram).
Next page: Lisbon "umbrella sites"
---
---
---
---