Lisbon Photos
From: Lisbon, Portugal travel guide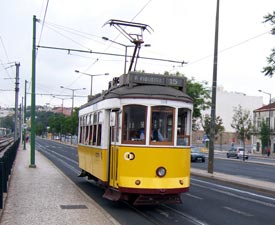 ABOVE: An antique tram in Lisbon, Portugal. (Newer streamlined trams run on the same tracks.)
Photos
Flickr: Lisbon
See what Lisbon pictures have been posted for public viewing on the Flickr photo-sharing site.
iStockPhoto: Lisbon
You can browse among more than 1,500 Lisbon images at this stock-photography site. If you see one that you like, buy the XS (Web resolution) version to use as a screensaver.
Virtourist.com: Lisbon
Tour Portugal's capital by slide show.
Next page: Practical information for Lisbon
---
---
---
---