Europe > Portugal > Lisbon > Practical information
Lisbon Practical Information
From: Lisbon, Portugal travel guide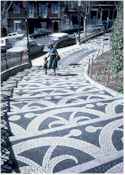 ABOVE: Characteristic Lisbon sidewalk made of small black and white stones.
Discounts
Lisboa Card
Get unlimited use of public transportation and free admission to leading museums for one, two, or three days. Many other attractions offer discounts of 10-50% to cardholders. (But do the math before you buy.)
Expat life
Moving to Portugal Made Simple
James Cave's 336-page handbook is essential reading for anyone who dreams of living in Portugal.
Language
Basic Portuguese Phrases
After you've practiced "Bom dia" and other phrases, you can learn more Portuguese with Rafa.
Maps
Lonely Planet: Lisbon Map
This guidebook publisher's small map shows the main tourist areas of the city.
GoLisbon Interactive Map
This zoomable map is based on Google Maps.
Sightseeing tours
Viator: Lisbon our partner
Book city tours and regional day excursions online before you leave home.
Weather/Climate
WeatherBase: Lisbon
Check daily highs and lows, precipitation, etc. for any month of the year in Imperial or metric units.
Gaisma: Lisbon
Use the table or graph to view sunrise, sunset, dawn, and dusk times in Lisbon and other cities throughout the world.
Next page: Lisbon shopping
---
---
---
---