Europe > Portugal > Lisbon > Shopping
Lisbon Shopping
From: Lisbon, Portugal travel guide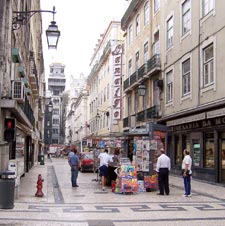 ABOVE: The Elevador de Santa Justa (far end of street) lifts tourists and locals from the Baixa to the Bairro Alto shopping district. It opened for business in 1901.
General Shopping Information
I'm not a shopper, but even I find it hard to resist the azulejo tiles and handpainted dishes of Portugal. I also have a prized collection of records and CDs from Portugal, including albums from Madredeus and Mísia. And I wouldn't dream of leaving Lisbon without a kilo or two of Portuguese coffee.
For advice about shopping from people who shop, see the links below.
GoLisbon: Shopping
Lisbon's independent travel site lists top shops and shopping streets.
Fodor's Travel: Lisbon Shopping
The guidebook publisher serves up a list of Lisbon shops and malls with skimpy descriptions.
Frommer's: Shopping in Lisbon
Another guidebook publisher offers a limited overview of the Lisbon shopping scene.
Shopping Centers
Amoreiras
The Amoreiras shopping center is centrally located, with a plethora of shops and a 10-screen movie complex.
Centro Colombo
The Iberian Peninsula's largest mall has 19 anchor stores, 400+ shops, and 60 restaurants. It's also a "leisure center" with a bowling alley, a roller coaster, go-karts, and a rooftop jogging track.
Next page: Lisbon Transportation
---
---
---
---