Lisbon Restaurants
From: Lisbon, Portugal travel guide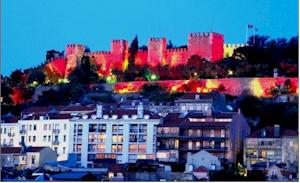 ABOVE: Castle of São Jorge, illuminated at night.
Article
Pastéis de Belém europeforvisitors.com
No visit to Lisbon's Mosteiro dos Jerónimos or the Torre de Belém is complete without a stop at this bakery-café next to the monastery, which has been serving delectable custard tarts since 1837.
Restaurant directories
Restaurants in Lisbon and Surroundings
The "location and public transport" comments make this list especially useful to tourists who aren't familiar with the city. From Paulo de Oliveira, a Lisbon-born biologist who teaches at the University of Évora.
Fodor's: Lisbon Restaurants
The guidebook publisher reviews a sampling of restaurants in several price ranges.
Frommer's: Lisbon Restaurants
Click the red "List all restaurants" button after you've read the introduction.
GoLisbon: Restaurants
This page has some useful tips, such as "Don't assume that the starters of cheese, spreads, olives, and bread that you are presented with when you sit down are free."
Personal plugs
Here are several personal recommendations (in the higher-priced restaurant categories) from a recent trip:
Olivia Avenida Restaurant
The Tivoli Jardim Hotel's contemporary restaurant turns Mediterranean ingredients into international dishes.
Terreiro do Paço
Book a table in the vaulted, two-story interior or under the arches facing the Praça do Comercio. At lunch, this top-drawer Portuguese restaurant is popular with well-dressed members of the city's political and business elite. (I saw the former president of Portugal during my visit.)
Next page: Lisbon entertainment
---
---
---
---