Europe > Rome > Cruise port > Civitavecchia > Transportation & tourist information
Civitavecchia City Guide
Page 4
Continued from page 3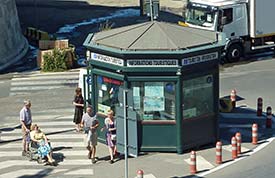 ABOVE: Civitavecchia's tourist office has an information booth at the south entrance to the cruise and ferry port.
Civitavecchia transportation and tourist information
How to reach the city and port

By train. The easiest, quickest, and cheapest way to reach Civitavecchia is by train, from Roma Termini or any of several intermediate stations in Rome.
See our Rome to Civitavecchia by Train and Civitavecchia to Rome by Train articles for details.
By car. Civitavecchia is on the western coast of Italy, about 80 km or 50 miles northwest of Rome and straight up the coast from Fiumicino (the site of Leonardo da Vinci Airport). For maps and road directions, go to Google Maps or the ViaMichelin journey planner.

By ferry. Car and passenger ferries link Civitavecchia to Sardinia, Sicily, and other destinations within Italy and abroad. The Civitavecchia page at Directferries.co.uk lists routes of Corsica and Sardinia Ferries, Grandi Navi Veloci, Grimaldi Lines, Moby Lines, SNAV, and Terrenia Navigazione.
By bus. Cotral operates buses to Civitavecchia and neighboring towns. (We recommend sticking with the train unless you have a compelling reason to travel by bus.)

By cruise ship. Hundreds of cruises depart from, arrive in, or visit Civitavecchia each year. To plan a voyage, see our European Cruise Guide at Europe for Cruisers, which has descriptions and Web links for more than 60 cruise lines.
Tourist information

Civitavecchia's Tourist Information Office has a booth next to the port's south entrance where you can pick up a city map, ask questions, get directions, and book excursions. (The map is part of a free tourist broadsheet called Target: Civitavecchia Magazine.)
On the Web, the best source of in-depth cultural and tourist information about the city is Civitavecchia.com, which has English-language pages at www.civitavecchia.net.
Another useful resource is the Google satellite photo map of Civitavecchia, which provides a clear aerial overview of the city center. (In the default view, you'll see the Forte Michelangelo and the port entrance on the left, with the main waterfront promenade along the beaches and the railroad station on the right.)