Venice > Sightseeing > Bridges of Venice > Accessible bridges
Accessible bridges
Page 8 of 9
From: Bridges of Venice
Accessibility isn't Venice's strong point, but the city has made some efforts to compensate for the inadequacies of medieval urban design. (See our "Accessible Venice" article for more information and advice.) 
---
BELOW: A couple of decades ago, the city installed wheelchair lifts on a number of busy bridges. Disabled visitors could borrow keys from the tourist office to use the lifts.
For various reasons (probably bad design and inadequate maintenance), most of the lifts quickly broke, and eventually the authorities decided to get rid of them.
A few decommissoned lifts were still around when we took these photos, and we've seen privately owned wheelchair lifts at the Palazzo Stern hotel and a handful of other locations around Venice.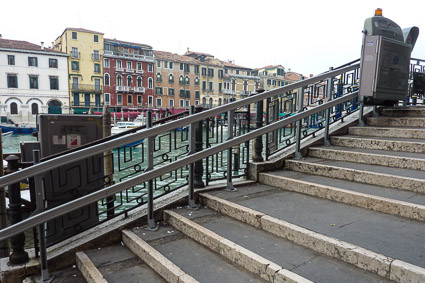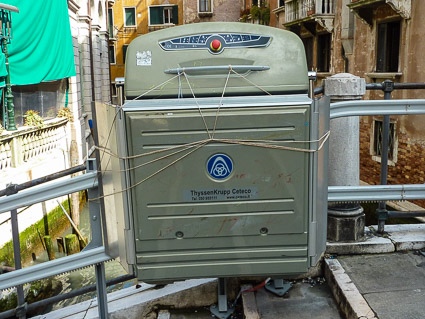 ---
BELOW: Only a few of Venice's bridges are flat and fully wheelchair-accessible. This modern bridge (which may be Venice's tiniest) parallels an existing bridge just off the Cannaregio Canal. We're guessing that it was installed to accommodate students and staff at the growing Cannaregio campus of Ca' Foscari University, which isn't far away.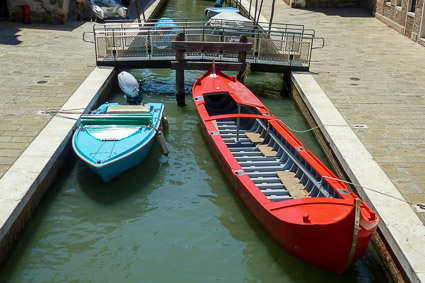 ---
BELOW:  A handful of Venice's bridges, such as the Ponte delle Guglie over the Cannaregio Canal, are equipped with half-steps on one side for the convenience of wheelchair users with companions, delivery people, and tourists with suitcases. (It's fairly easy to bump wheels over the rounded half-steps if your load isn't too heavy.)
A sign on the Ponte delle Guglie shows how to use the half-steps on the bridge, which has a modest 16% incline.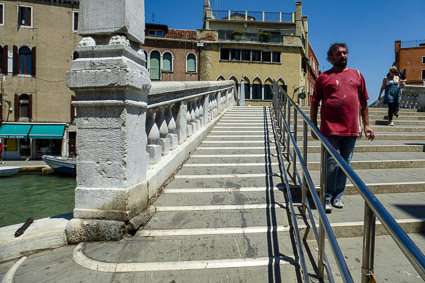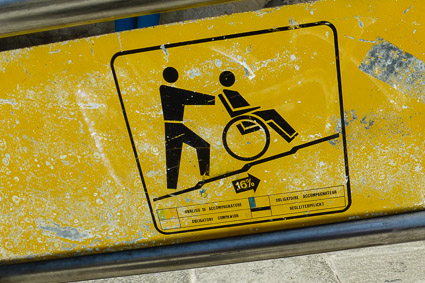 ---
BELOW: For the last 20 years or so, ramps have appeared (and sometimes disappeared) on some of Venice's bridges, especially in tourist-friendly areas such as the waterfront east of the Piazza San Marco and upscale neighborhoods in Dorsoduro.
In past years, many of the ramps were taken down each year after the Venice Marathon in late October, but lately the city has been less aggressive about hauling them away after the race.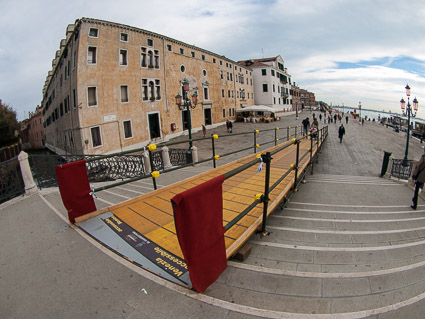 ---
BELOW: This ramp in Dorsoduro has obstacles to discourage bicycling and skateboarding by children. (Warning: Such activities are illegal for adults.)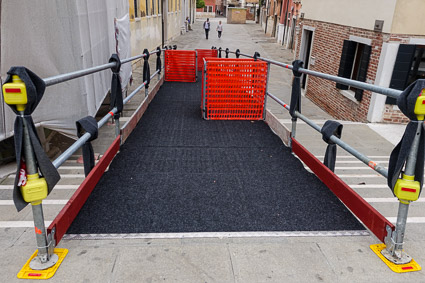 ---
Next page: Bridge maintenance
---
---
---