Venice > Sightseeing > Bridges of Venice > Accademia Bridge
Ponte dell'Accademia (Accademia Bridge)
Page 3 of 9
From: Bridges of Venice
The Accademia Bridge crosses the Grand Canal near St. Mark's Basin. The current bridge was built as a temporary wooden bridge in 1932, replacing an iron bridge that dated back to 1884.
In the last few decades, city officials discussed replacing the Accademia Bridge with a permanent structure, but public resistance (combined with the high cost of a new bridge) led them to renovate the existing bridge instead.
---
BELOW: A No. 1 vaporetto passes under the renovated and redecorated Accademia Bridge.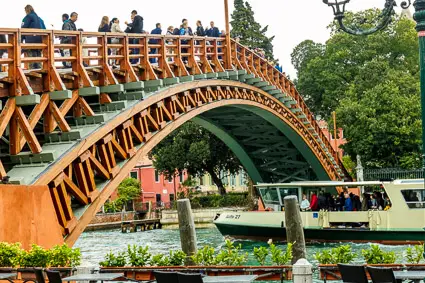 ---
BELOW: A visitor looks toward St. Mark's Basin from the Accademia Bridge. (The palazzo on the left side of the picture houses the Hotel Galleria, which is one of the few inexpensive hotels on the Grand Canal.)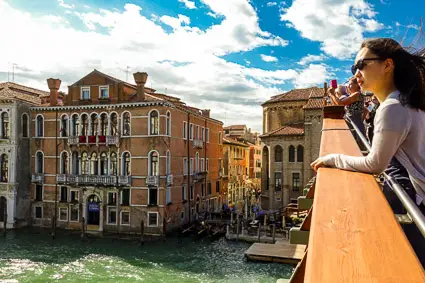 ---
BELOW: This view from the Accademia Bridge shows the Accademia vaporetto station, a self-propelled barge, and water taxis on the Grand Canal.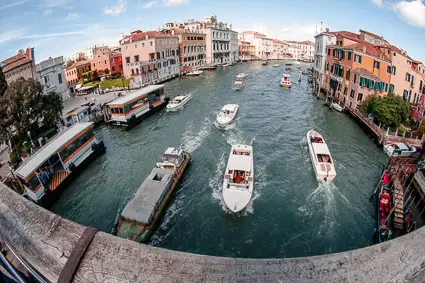 ---
BELOW: The Accademia Bridge's wooden steps can be slippery on rainy days. If you don't have claws like Maggie, our late Bearded Collie (see her "Maggie in Venice" blog), hold onto the handrails.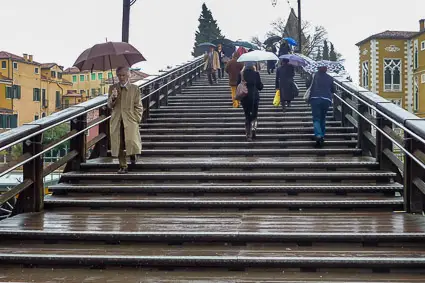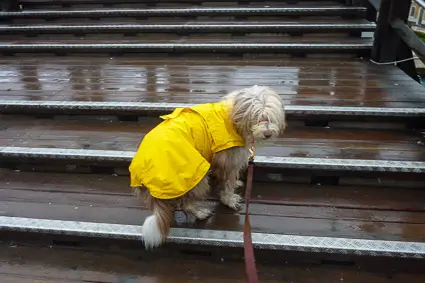 ---
BELOW: A visitor and his dog pose with the Basilica di Santa Maria della Salute in the distance behind them. The basilica is at the eastern end of the Grand Canal, across from the Piazzetta and the Piazza San Marco.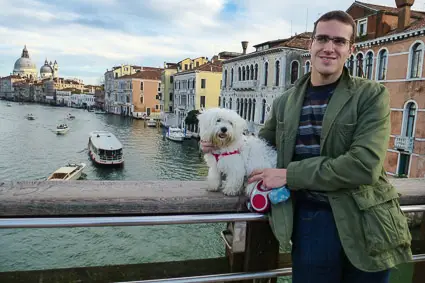 ---
Next page: Ponte dei Scalzi (Scalzi Bridge)
---
---
---