Venice > Sightseeing > Bridges of Venice > Calatrava Bridge
Ponte della Costituzione (Calatrava Bridge)
Page 5 of 9
From: Bridges of Venice
The fourth (and newest) bridge over the Grand Canal is officially named the "Constitution Bridge," but nearly everyone in Venice calls it the Ponte di Calatrava or Calatrava Bridge after the Spanish architect who designed it.
The ultramodern bridge opened in 2008 and provides a quick walking route between the Venezia Santa Lucia Railroad Station and the Piazzale Roma (Venice's gateway for ACTV land buses, airport buses, land taxis, private cars, trams to the mainland, and the People Mover shuttle train to the Marittima cruise terminals and the Tronchetto parking garage.)
---
BELOW: The Ponte di Calatrava opened in 2008, so you won't find it on older printed maps.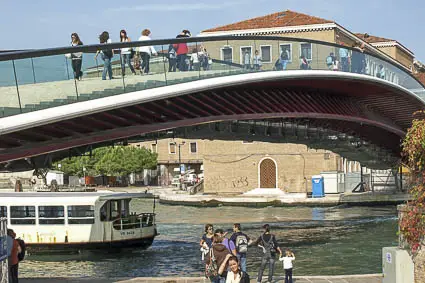 ---
BELOW: The bridge is modern in design, with a tubular steel truss and a glass parapet with bronze railings. The transparent walls let small children enjoy views of waterbus traffic to and from the busy Piazzale Roma vaporetto station.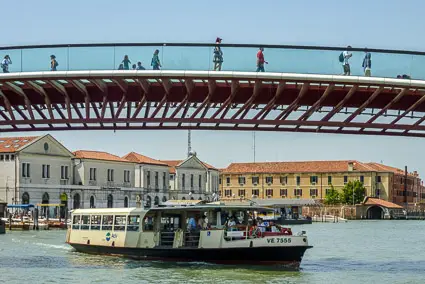 ---
BELOW: The Calatrava Bridge isn't too difficult to cross in good weather, thanks to low steps and a fairly gentle incline. However, the glass steps alongside the parapets can be slippery in the rain. In wet weather, it's safer to use the stone steps in the center of the bridge. (Update: In 2022, when we last revised this article, the city was getting ready to replace the glass steps with stone.)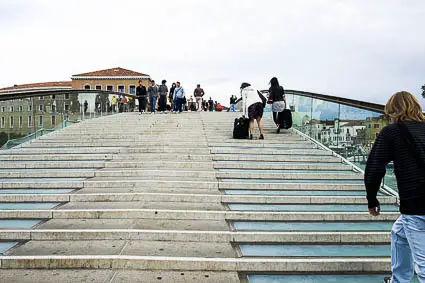 ---
BELOW: Unfortunately, the Ponte di Calatrava is not accessible to wheelchairs. A gondola lift for wheelchairs was added shortly after the bridge opened, but it never worked reliably, and an Italian court ordered it removed in 2019. (The lower photo shows the now-demolished lift covered with stickers in 2018.)
Tip: If you're in a wheelchair and need to get to the other side of the bridge, take the No. 1 vaporetto from Piazzale Roma to Ferrovia (the railroad station) or vice versa. While you're at it, stock up on "disabled tickets," which are one-sixth the price of normal waterbus tickets. (As a bonus, passengers in wheelchairs can bring an "assistant" or companion for free.)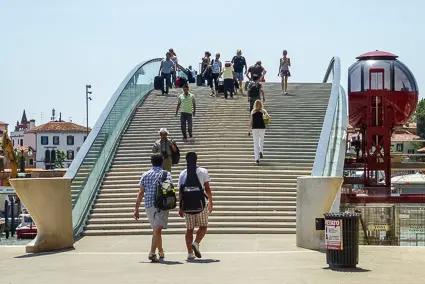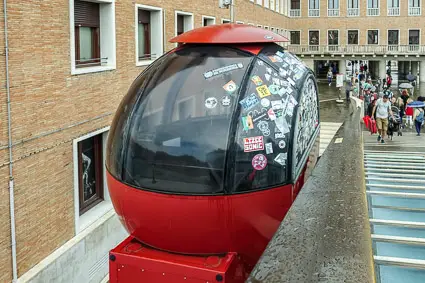 ---
Next page: Smaller bridges
---
---
---