Il Pavone
from: Fisheye Venice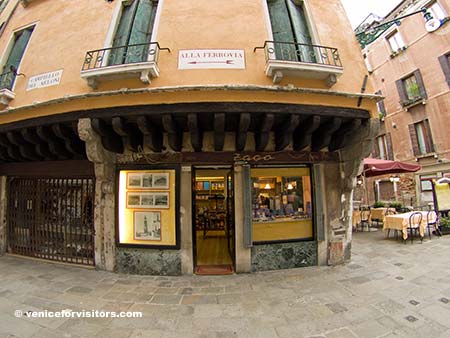 The ancient wooden sign above the door reads "Zago," but this long-established stationery shop is named Il Pavone ("The Peacock"). It's on the Campiello dei Meloni at San Polo 1478, not too far from the Rialto Bridge.
Il Pavone makes and sells colorful "peacock" papers, journals, photo albums, wax seals, decorative rubber stamps, and related gift items. If you're looking for a stamp of your initial or a Venetian motif (such as the winged lion that my wife wanted to buy), just ask the friendly, English-speaking proprietor to show you his catalog. After you've picked your design, he'll make a rubber stamp on the spot and test it with an inkpad before taking your money.
The owner's brother operates another Il Pavone store on the Fondamente Venier dei Leone in Dorsoduro, near the Peggy Guggenheim art museum. It has an even larger variety of products, including tote bags, boxes, neckties, etc. decorated with the Venetian motifs that are used for Il Pavone's rubber stamps.
---
---
---