Norwegian Jade Cruise Photos
From: Norwegian Jade Cruise Review
Day 2: Valletta (2)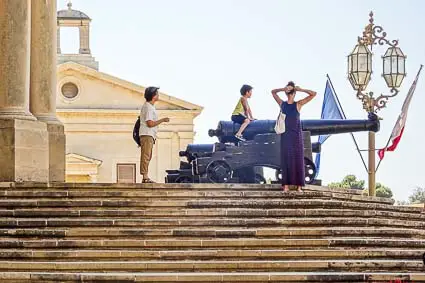 From the top of the Upper Barrakka Lift, we walked to Valletta's business district, passing impressive buildings along the way.
---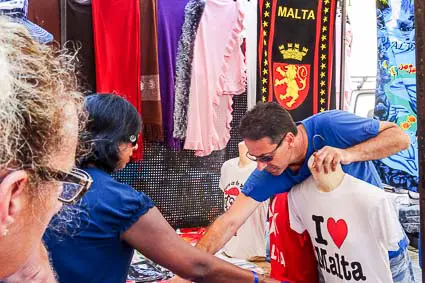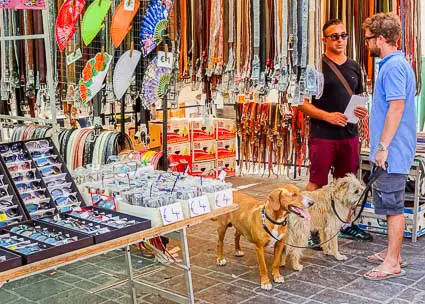 Valletta's main shopping street was filled with stalls that sold souvenirs, clothing, jewelry, and other tourist items.
---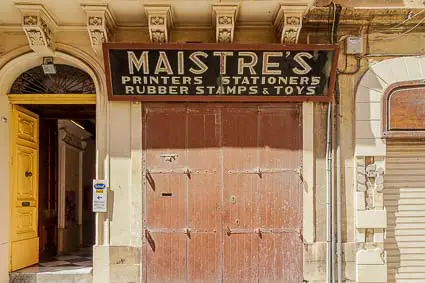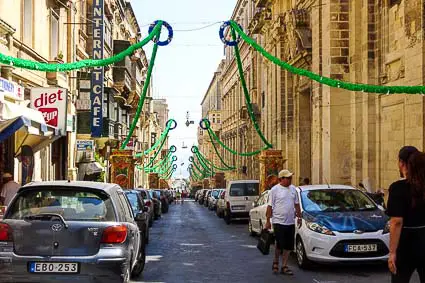 Downtown Valletta also had many established businesses that catered to residents of Malta, along with green street decorations that had no meaning for tourists like us.
---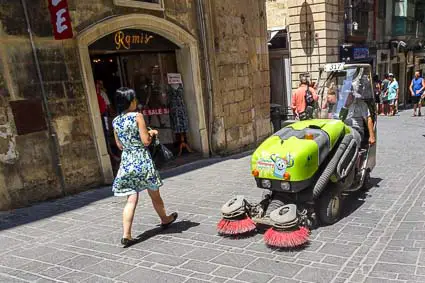 A streetsweeper kept the attractive stone pavement spick and span.
---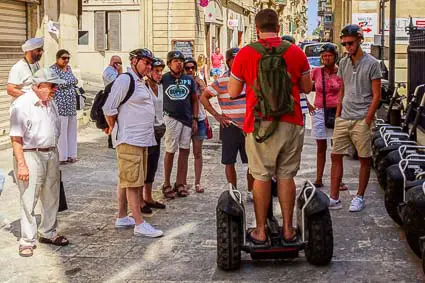 In another street, intrepid visitors (apparently unafraid of Malta's steep hills) set out on a Segway Tour.
---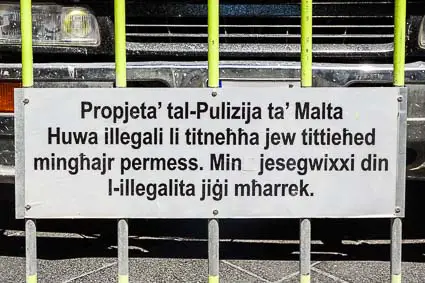 Many of Valletta's public signs were in English, but a few--such as this cryptic sign--were in a language understood only by certain people and small dogs.
We later ran the text through Google Translate, which told us that the sign meant:
"Property of Police Malta is illegal to remove or taken WITHOUT permission. On execute this I illegality being sued."
---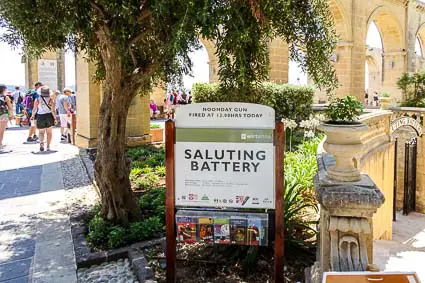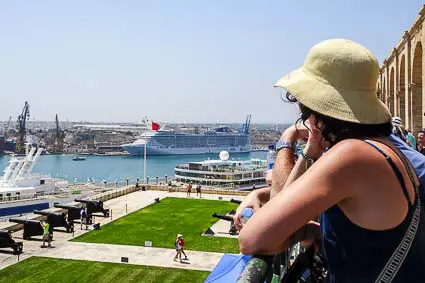 As midday approached, we retraced our steps to the Upper Barrakka Gardens and the Saluting Battery that faced the Grand Harbour.
---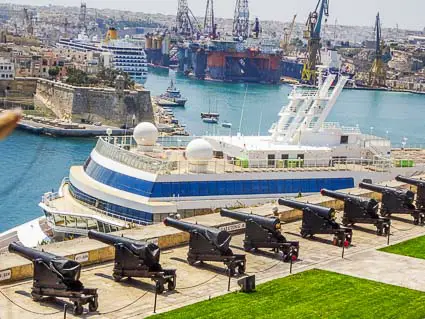 The cannons sat quietly above the ramparts, with their muzzles pointed over the bow of Norwegian Jade.
---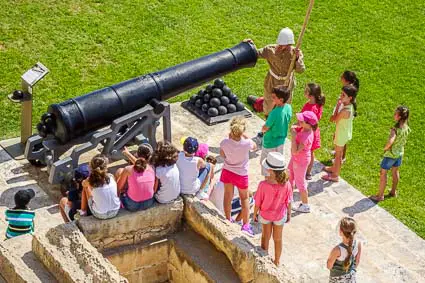 Visitors gathered around a cannon while a soldier explained how it worked.
---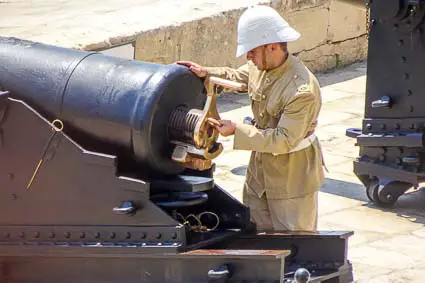 Shortly before noon, tourists were shooed away and the soldier loaded powder into his cannon's breech.
---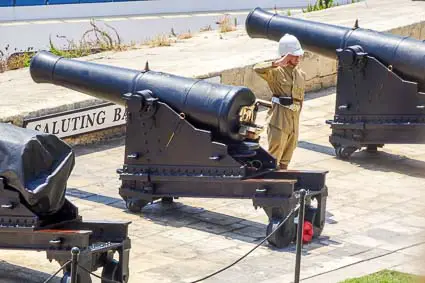 Next, the soldier stood alongside the cannon and raised his arm in a salute.
---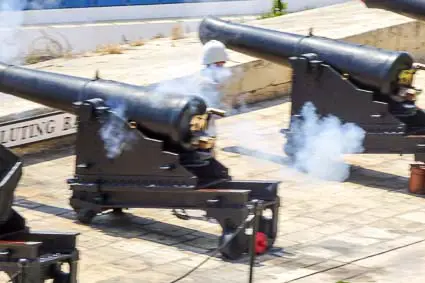 At 12 p.m., the Noon Gun was fired. (This photo is blurry because a woman next to Cheryl cried out and bumped against her when the cannon went off with a loud "boom.")
---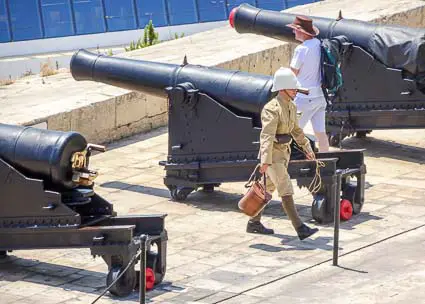 After the smoke dispersed, the soldier left and the tourists took over.
---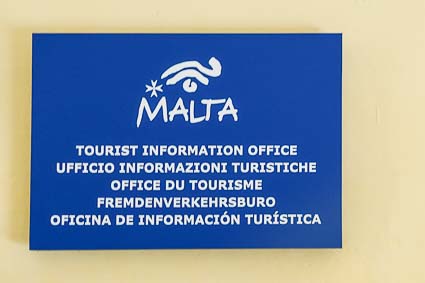 We returned to the center of town and found the Malta Tourist Information Office, where a helpful employee answered our questions about the town.
---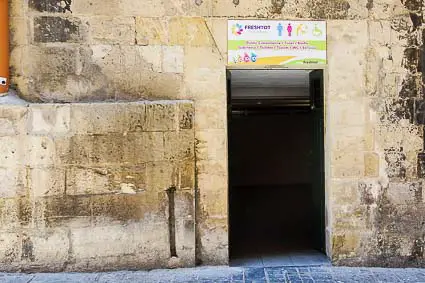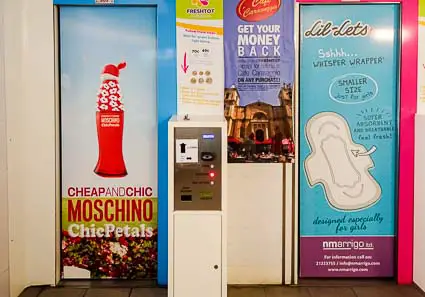 We also visited the public lavatories around the corner, which had self-cleaning pay toilets.
Tip: Bring an assortment of small euro coins, because the fee may be an odd amount (70 cents at the time of our visit, or 49 cents for Loyalty Card holders).
---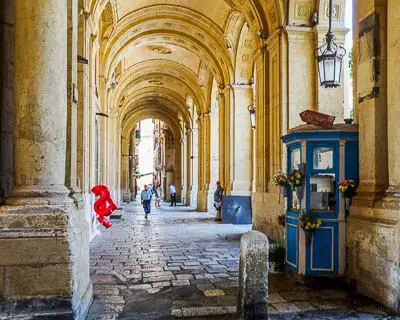 Under the arcades of Republic Square, we saw a blue-and-white booth where an elderly gent was selling drinks.
---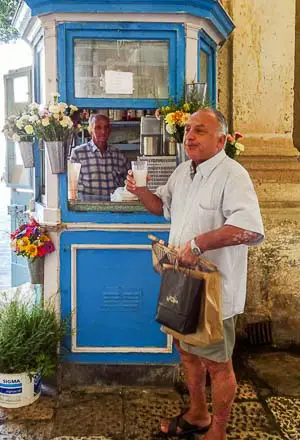 A local man insisted that we try the almond-based drink, which was a kind of horchata with lemon.
---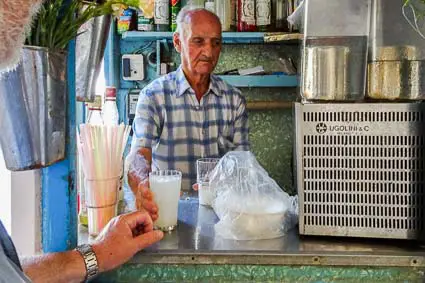 We each ordered a glass, and the drink was indeed refreshing on a hot summer day.
---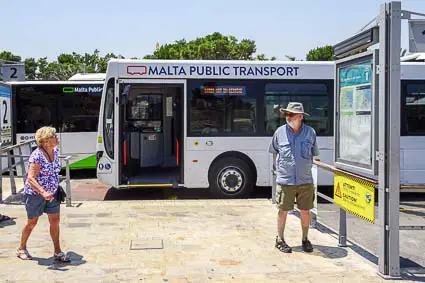 We continued to wander through the city center. Near the Triton Fountain at the western end of downtown, we found Valletta's Bus Terminus, where public buses went to towns and villages around the island.
---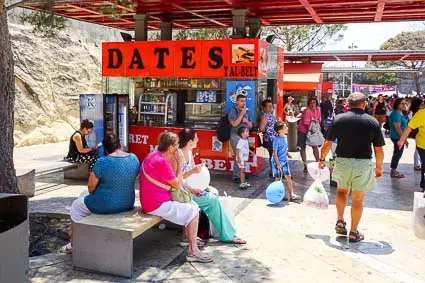 Why share a seat with a stranger when you can hook up with someone before you board the bus?
---