Norwegian Jade Cruise Photos
From: Norwegian Jade Cruise Review
Day 14: At Sea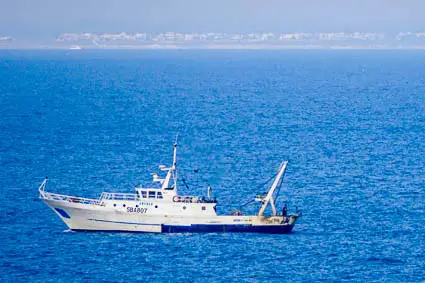 When we went onto our balcony before breakfast on our final sea day, we could see Italy's Adriatic coast. A fishing boat was on the prowl near Norwegian Jade.
---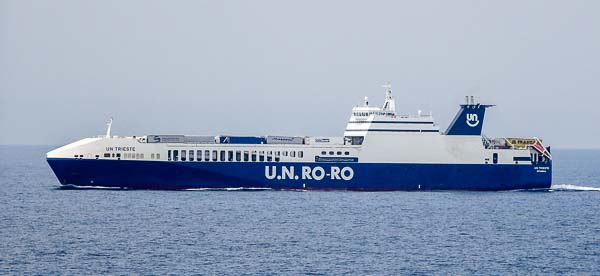 The Ro-Ro ship UN Trieste cruised by as we watched from our balcony.
---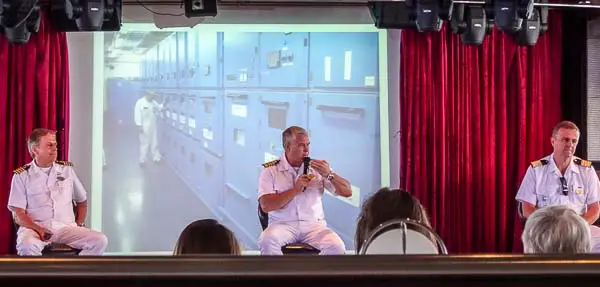 At 10. a.m., we attended a Q&A session with three of the ship's senior officers in the Spinnaker Lounge. The officers answered questions from the passengers on a wide range of topics.
---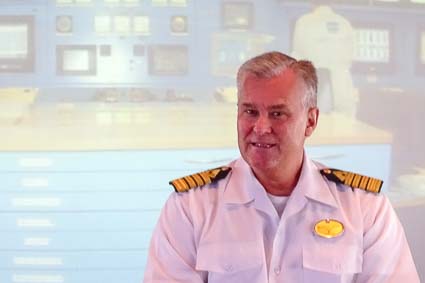 The ship's Master, Mikael Hilden, had a droll sense of humor.
We later looked up his Linkedin profile and learned that he has been in the shipping industry for more than 37 years, including 19 years with cruise ships. (Captain Hilden has also taught courses in tanker safety and Azipod operation at the maritime academy in his native Finland.)
---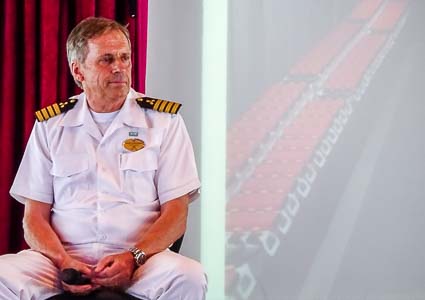 Joran Rasmusson, Norwegian Jade's Chief Engineer, is from Sweden. He's in charge of the ship's physical plant, including five massive diesel engines with a total capacity of 72,000 kW or 96,534 hp.
---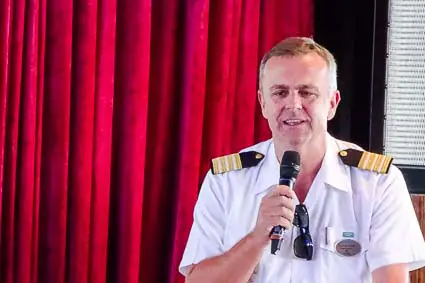 The ship's Hotel Director, Jovo Sekulovic, is a native of Serbia. He oversees all of the ship's hospitality operations, and he makes a point of being accessible: Passengers can call his phone extension if they have questions or complaints. (When we tried it, he picked up the phone himself.)
---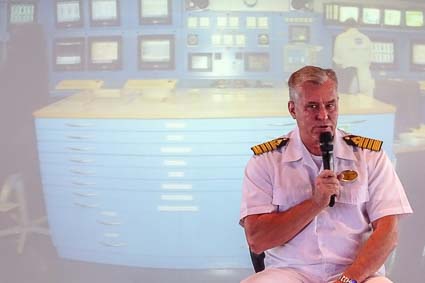 During the Q&A session, we learned random facts such as:
There were 2,854 passengers on our cruise, plus 1,020 crew. (The ship's maximum capacity, if all berths are used, is about 4,130 passengers and crew.)

Norwegian Jade has a maximum speed of 23 km, with four of its five engines in service. (Top speed is used only in emergencies or for testing the ship's machinery.) Under normal conditions, the ship runs on two or three engines at an optimum cruising speed of 17 to 17.5 knots.

Marine Gas Oil (a low-sulfur bunker fuel) is used in ports to reduce air pollution.

Cruise ships normally go into drydock about every five years until they're 10 years old; after that, the interval drops to three years. Not all maintenance or repairs require visiting a drydock: for example, Norwegian Jade's routine engine maintenance is done at sea.

Two officers are on the bridge at all times, with one officer watching the radar. (International law requires only one officer, but NCL would rather be safe than sorry.) The captain's cabin is directly behind the bridge, with large windows overlooking the bridge.

The time to "turn over" Norwegian Jade between cruises is only a few hours. Embarkation usually starts around 11:15 a.m., and by 1:30 p.m., the ship is ready to sail.

The ship has its own sewage system. Liquid waste goes into tanks, where it's treated, disinfected with UV rays, and pumped overboard 12 nautical miles or more from shore.

NCL is gradually changing lighting to LEDs throughout the fleet.

Norwegian Jade has been involved in a number of rescues at sea. For example, it rescued 18 people from the waters of the Singapore Straits, and it has picked up people between Cuba and Florida.

On occasion, the ship has needed to rescue passengers or crew who have jumped overboard. About 18 months earlier, a person was seen climbing over the rail between Santorini and Mykonos. An alert was sounded within 25 seconds, two MOB ("Man Overboard Boats") were lowered into the water, and the victim was in the ship's clinic within 20 minutes of jumping.
---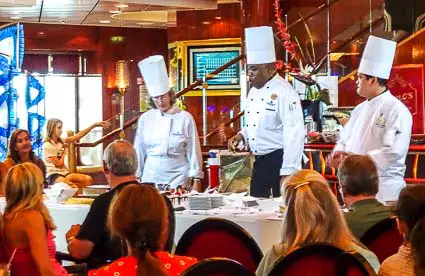 Later in the morning, we went to the Atrium for a "Battle of the Cake Masters." The ship's Executive Chef was pitted against the Pastry Chef (right) and a volunteer from the audience named Kathy.
---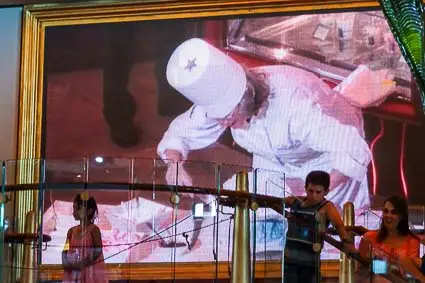 The contestants had 10 minutes or so to decorate a layer cake consisting of pound cake, strawberry jam, and whipped cream. The audience would judge the results by watching close-up images on the Atrium's big screen.
Culinary tip:

We (and the passenger volunteer) learned that brushing cake layers with simple syrup will keep the filling from soaking into the cake.
---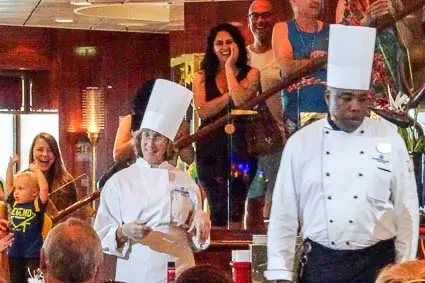 The Executive Chef played the role of the sulking villain, and "Kathy from New Mexico" quickly became the audience favorite.
---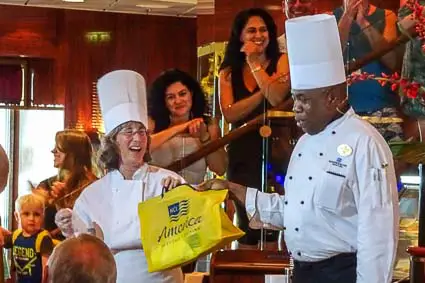 Kathy's good cheer and enthusiasm paid off when the results were judged (even though her cake was the messiest of the three), and she won a gift certificate for dinner and a bottle of wine in the La Cucina specialty restaurant.
---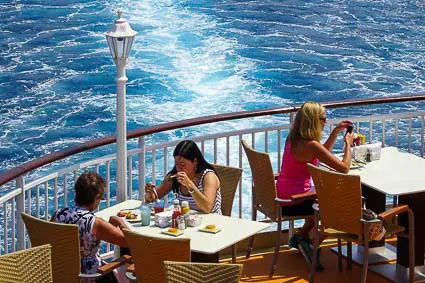 Out on deck, passengers were already having lunch at the Great Outdors restaurant.
---