Norwegian Jade Cruise Photos
From: Norwegian Jade Cruise Review
Day 15: Arrival in Venice
When we woke around 6 o'clock the next morning, Norwegian Jade was already in the Venetian Lagoon. As the ship cruised past the Lido di Venetia toward Venice's historic center, we saw the pilot boat's station from our port-side balcony.
---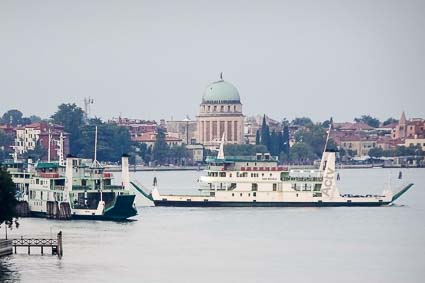 An ACTV Linea 17 car ferry was arriving at Lido San Nicolò.
---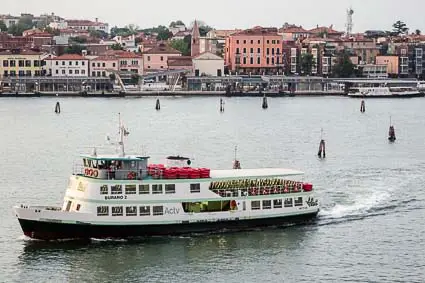 An ACTV motonave passed Norwegian Jade near the Lido Santa Maria Elisabetta vaporetto station (the grey structure on the waterfront).
---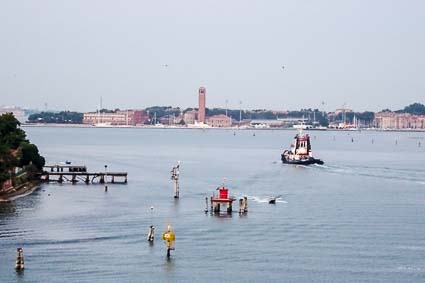 A tug preceded Norwegian Jade as we continued on toward Venice's city center. (You can see the tip of central Venice in the background.)
---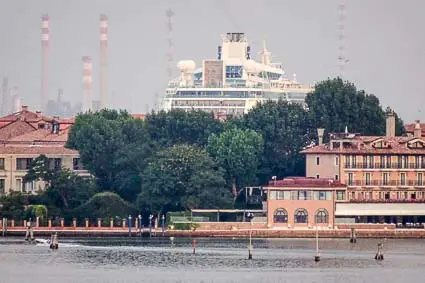 By standing on one of Norwegian Jade's highest decks and aiming our camera at the city, we could see another cruise ship at Marittima and the distant smokestacks of Marghera's Industrial Zone on the mainland.
(The 30X telephoto compressed the perspective in this photo. In reality, Marittima and Marghera were several miles away.
---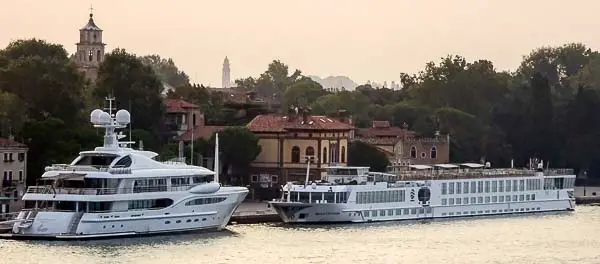 We passed Venice's Giardini Pubblici (Public Gardens), where a yacht and Uniworld's River Countess were moored.
---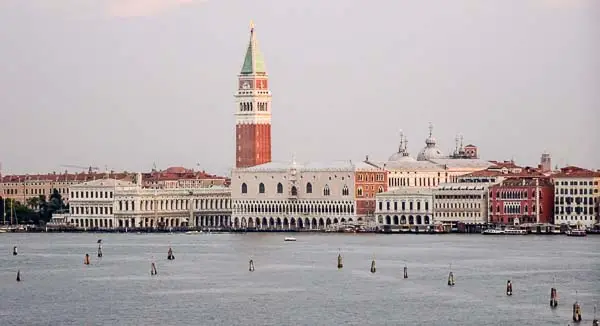 The waterfront by the Campanile di San Marco, the Piazzetta, and the Doges Palace was nearly deserted. It would be another hour or so before workers and tourists arrived in significant numbers.
---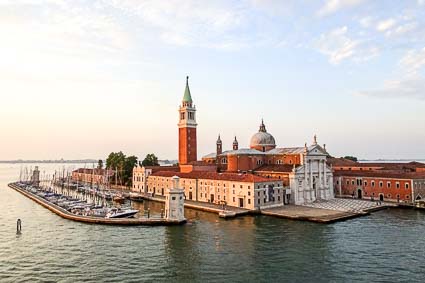 The square in front of the church on the island of San Giorgio Maggiore, across from San Marco, was completely empty. (The adjacent marina, however, was filled with boats.)
---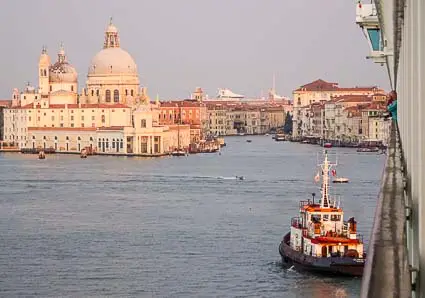 Under the control of a tug and the Venetian harbor pilot, Norwegian Jade followed the deepwater shipping channel from St. Mark's Basin into the Giudecca Canal.
---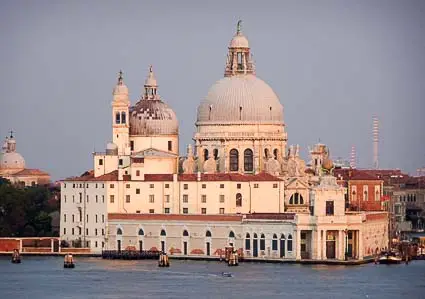 This picture shows the former Dogana di Mare or Customs House (now an art museum) and the domes of Santa Maria della Salute (Venice's "plague church"), which lie where the Giudecca Canal (off to the left) and the Grand Canal (right) feed into St. Mark's Basin (foreground)
---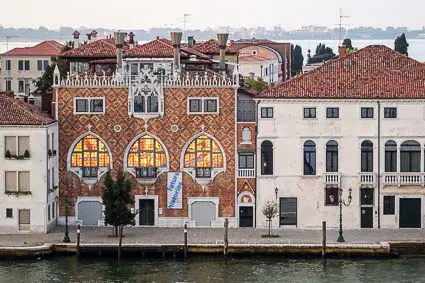 On the island of Giudecca, across the Giudecca Canal from central Venice, a palazzo (owned by the V-A-C Fountation) was advertising a "Future History" art show.
---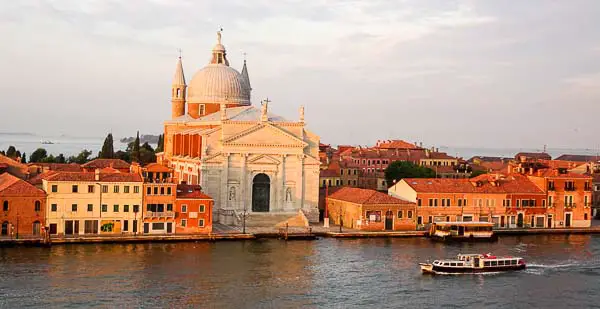 The early-morning light brought a glow to the Redentore Church on the Giudecca Canal.
---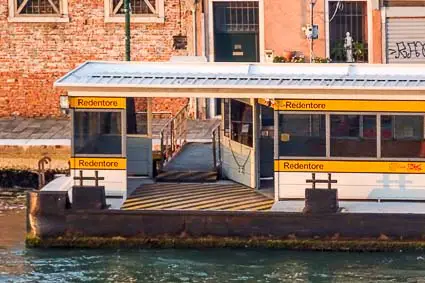 The ACTV vaporetto stop at Redentore was nearly deserted at this early hour.
---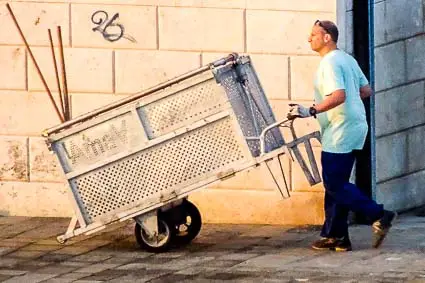 A trash collector was already out and about on Giudecca, picking up bags of garbage from houses and small businesses. (In Venice, trash is collected every day but Sunday, and recycling is also picked up several times per week.)
---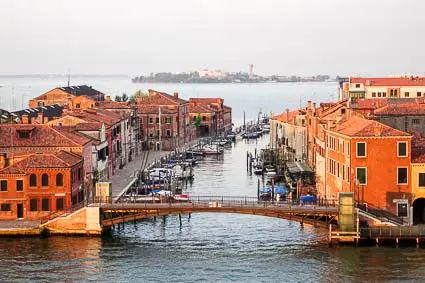 This photo shows a side canal on Giudecca. The canal runs from the Giudecca Canal (Venice's main ship canal) to a quiet area of the Venetian Lagoon. One of the Lagoon's many islands is in the background.
---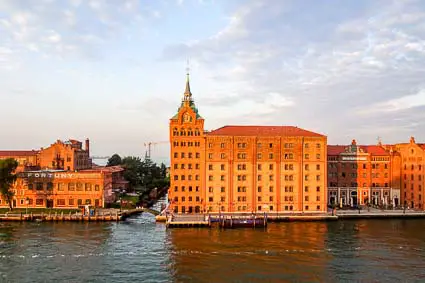 Giudecca's Molino Stucky (once a flour mill, now a Hilton hotel and a luxury apartment complex) looked beautiful in the morning light.
---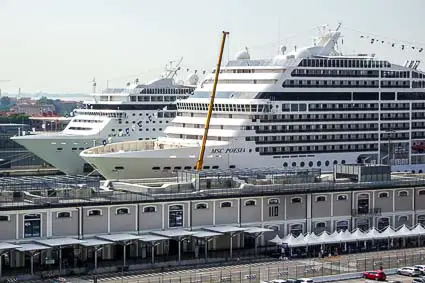 A few minutes later, Norwegian Jade arrived at Terminal 117, where two cruise ships were already moored at other piers in the Marittima basin.
---