Paris > Main Index
Paris Travel Guide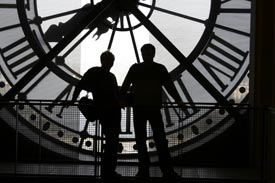 ABOVE: Meeting under the clock at the Musée d'Orsay.
---
---
Paris Métro
The Paris underground system has 380 stations and 14 lines with 211 km (130 km) of track. Our illustrated article tells how to buy tickets (including discounted carnets) and ride the trains.
Navigo Easy Card
Use the Paris transit network's plastic stored-value card for "pay as you go" rides on the Métro, RER trains, buses, and trams.
Paris RER
The Réseau Express Régional is a commuter-rail system that connects with the Métro. RER destinations outside the city include CDG Airport, Versailles, and Disneyland Paris.
Paris Buses
Sometimes, the quickest route between two points is a straight line (or at least a straighter line than the Métro's routes).
Paris Trams
The Paris region now has four modern tramways, including one along the southern edge of the city.
Montmartre Funicular
If you can't stand steep hills, the Funiculaire de Montmartre is one way to reach Sacré-Coeur without getting out of breath.
Charles de Gaulle Airport Ground Transportation
Here's how to reach the city from Roissy by RER train, bus, door-to-door shuttle, or taxi.
CDGVAL
Free automated shuttle trains now connect the terminals and major parking garages at Charles de Gaulle Airport in Roissy.
Orly Airport Ground Transportation
How to reach central Paris or CDG from Orly Airport by train or bus, with connections to the RER and Métro.
Beauvais
The site of Paris Beauvais Airport (BVA) and the Ryanair Paris hub is a pleasant city of 55,000 with a magnificent Gothic cathedral and one of the region's nicest public squares. From Paris, you can reach Beauvais in a little over an hour by train or airport bus.
Gare du Nord
Eurostar, Thalys, RER trains from CDG airport, and rail services to Northern France and Northern Europe use this major station in the 10th arrondissement.
Eurostar London-Paris-London
Our illustrated report describes journeys in Standard and Leisure Select Class, with information on check-in at London Waterloo and Paris Gare du Nord.
Thalys Europe for Visitors
High-speed trains of the Thalys network connect Paris to Belgium, the Netherlands, Germany's Rhineland, and (in season) ski resorts in the French Alps.
Paris Sightseeing Boats
Cruise or dine on the Seine, explore the St-Martin Canal, or spend a day on the Marne River. Our cruising guide has links to a dozen excursion-boat companies.
L'Insolite
Are you turned off by tour groups? Skip the big-name Paris sightseeing boats and cruise on L'Insolite, a boutique vessel for independent travelers.
St. Martin Canal Cruises
In 2-1/4 hours, you'll traverse a 19th Century canal through Parisian neighborhoods, rise or fall 26 meters in a series of locks, and cruise in a barge tunnel underneath the Place de la Bastille.
Paris Sightseeing Buses
"Hop on, hop off" double-deckers make it easy to reach the major sights, and the Batobus water bus extends the concept to the Seine.
Paris River Cruise Ports
How to reach your ship if you're embarking on a Seine river cruise, and how to reach the sights of Paris from the Port de Grenelle and the Port de Javel Bas.
Money Tips for Paris
Before heading for France, read our advice on cash, currency exchange, and credit cards. (Watch out for hidden fees!)
Paris Maps
In a city the size of Paris, you'll need a good map--or better yet, several--to find your way around. Here are our favorites (including two that are free).
Paris Public Toilets
Forget pissoirs and hole-in-the-floor squat toilets. In today's Paris, public 'sanisettes' are high-tech, self-cleaning, and mostly free. Here's what they look like and how to use them.
Paris Scams: "Gold Ring Scam"
When Cheryl was accosted by a con artist who tried to sell her a fake "gold ring" that supposedly had been found on the sidewalk, she took pictures and messed with the confused scammer's mind.
Paris Scams: 'String Men' of Sacré-Coeur
Don't be intimidated by these small-time extortionists--they're annoying but harmless, and you can head them off before they strike.
Paris 'Petition' Scam
When in Paris, don't be fooled by bearers of fake petitions. They'll shake you down for money, and they may pick your pocket.
Top 11 Tourist Mistakes (and how to avoid them)
Millions of visitors have gone before you. You can profit from they've learned through harsh experience!
Vélib' Bicycle Rentals
Hundreds of automated city-owned Vélib' Metropole service points rent 3-speed bicycles for a token fee, and you can return your bike to any location. Also see our page on other bike-sharing programs.
Giverny Day Trip by Train
Claude Monet's house and gardens are easy to reach from Paris by nonstop SNCF train and a local shuttle bus.
RER 'C' Train to Versailles
Paris RER commuter trains offer frequent service to the Versailles Château Rive Gauche station, which is only a short walk from the palace and gardens.
---
---

Arènes de Lutèce
Gladiator combat and other Gallo-Roman entertainments once took place in this 1st Century amphitheatre, which is now a public park in the 5th arrondissement.
Atelier des Lumières
L'Atelier des Lumières offers immersive sight-and-sound exhibitions in a former Parisian foundry. The venue, which opened in 2018, provides a delightful experience for adults and children alike.
Ballon Air de Paris
In the 1800s, captive gas balloons lifted thousands of Parisians above the city. Now you can relive that tradition with an inexpensive 10-minute ride to an altitude of 150 meters or nearly 500 feet.
Dalida in Montmartre
One of France's most celebrated singers is remembered with a tomb in Montmartre Cemetery, a public square, and a fan-polished bronze bust.
Dinner Cruises on the Seine
Half a dozen Parisian cruising fleets serve dinner (and, in some cases, lunch) aboard restaurant boats or a vintage yacht. Prices range from moderate to mind-boggling.
The Eiffel Tower at Night
To avoid the worst of the crowds, visit the tower after dusk. As a bonus, you'll get a close-up view of the floodlit ironwork and the hourly strobe-light show.
Bercy Village
Rows of converted 19th Century wine warehouses form the nucleus of an attractive shopping, dining, and entertainment development next to the Parc de Bercy and the Seine.
Erotic Museum
The Musée d l'Erotisme has its share of X-rated Hindu temple carvings and early 20th Century raciness, but its best feature may be the exhibit about Paris brothels from the late 1800s through 1946.
FlyView "Fly Over Paris"
When it's raining, or if you're traveling with kids, a flight over Paris by virtual jetpack is an enjoyable (if pricey) way to see the sights.
Fragonard Perfume Museum
Learn about the history and manufacture of perfumes in a 19th Century mansion. You can sample perfumes, and admission is free.
Galeries Lafayette Rooftop Terrace
The views are free from this department store's observation deck. We especially like visiting the terrace after dark, when the Eiffel Tower puts on its hourly light show.
Île aux Cygnes
The "Island of the Swans," or "Swan Island, is an appealing (and little-touristed) park in the Seine, not far from the Eiffel Tower.
Jardin du Luxembourg
The Luxembourg Garden offers a peaceful respite from sightseeing. If you have children, the playground and pony rides are hard to resist.
La Boulangerie Patiserrie Au Grand Richelieu
The oldest bakery in Paris has been in business since the time of Napoleon. Its jovial proprietor's breads and pastries are first-rate. (Archived article.)
La Boulangerie par Véronique Mauclerc
Of the four wood-burning bakery ovens left in France, only two are in Paris--including one near the Parc des Buttes-Chaumont where a female boulanger creates artisan loaves from organic flour and wild yeasts. (Note: Since this archived article was written, the bakery has been acquired by Boulangerie Poilâne.)
La Cité Internationale Universitaire de Paris
Some 12,000 students and researchers from 140 countries attend the City International University of Paris, which was founded in 1925. CIUP's attractive campus is located on the southern edge of Paris, with easy access by RER "B" line trains.

La Conciergerie
Nearly 2,800 condemned prisoners spent their last days here after the French Revolution--among them, the Empress Marie-Antoinette, whose prison cell has been recreated within the medieval fortress.
Lost in Frenchlation
See recent French movies with English subtitles at any of three Parisian art houses (and meet fellow Anglphones during the preceding social hour).
Marché Saint-Pierre
If shopping for fabric strikes your fancy, bring a steamer trunk (or, better yet, a van) to the Marché Saint-Pierre cloth district in the 18th arrondissement.
Meeting the French
Do-it-yourself diplomacy begins at the dinner table, and Laurence Monclard--a gastronomic matchmaker who studied in the U.S--can help you arrange a meal with Paris citydwellers or suburbanites.
Meet the Parisians at Work
Inexpensive bilingual tours from Meeting the French and the Paris Convention & Visitors Bureau take you to workshops, ateliers, and studios throughout the city. (Archived article.)
Medieval Louvre
Before it became a royal palace and museum, the Louvre was a fortress with 10 towers, walls, and a moat. You can visit the excavated ruins with your museum ticket.
Musée d'Art Moderne de la Ville de Paris
The City of Paris Museum of Modern Art has 13,000 works, including paintings and sculptures by artists such as Henri Matisse, Raoul Dufy, Amedeo Modigliani, and Marc Chagall.
Musée des Arts et Métiers
Europe's oldest science museum was founded in 1794 and displays more than 2,400 examples of inventions and industrial design.
Musée Bourdelle
Antoine Bourdelle was Rodin's assistant and a successful sculptor in his own right. His home in Montparnasse is now a city-owned museum that displays his marble, plaster, and bronze statuary.
Musée National du Moyen Age
The Louvre and the d'Orsay may be more famous, but this museum (created in 1843) has a wonderful collection of medieval sculptures, tapestries, and other artworks in a 15th Century abbots' residence that incorporates Roman baths and modern gardens.
Musée Zadkine
The Musée Zadkine occupies a house in the 6th arrondissement where Russian-born sculptor Ossip Zadkine lived and worked for nearly 40 years. The museum is owned by the city of Paris, and admission is free.
Notre Dame Cathedral Towers
Emulate the Hunchback of Notre Dame as you ascend corkscrew staircases, encounter gargoyles, and enjoy aerial views of Paris.
Opéra Garnier
For over-the-top architecture, visit The Phantom of the Opera's spectacular setting. (And yes, there's a pond underneath; it's now a water reservoir for the Paris fire department.)
Parc des Buttes-Chaumont
The most romantic park in Paris is built on the site of a former gypsum quarry and execution ground.
Parc Montsouris
The Montsouris Park is an attractive urban green space on the southern edge of Paris. It's next to an RER station and the Cité Internationale Universitaire de Paris.
Pastry Tours in Paris
Visit the city's leading pâtisseries and chocolateries with Ludovic Roif, a friendly and knowledgeable Parisian gastronome.
Paris Dog Cemetery
The world's oldest public pet cemetery is in the Parisian suburb of Asnières-sur-Seine, which is easy to reach by Métro. Its residents include 40,000 dead animals and a large number of living cats.
Paris Plage
For a month each summer, Parisians flock to manmade beaches along the Seine and in the Bassin de la Villette.
Paris Segway Tours
Be footloose without getting footsore as you zip through Paris on a high-tech Segway Human Transporter.
Paris Sewers Museum
The boat tours are gone, but the Musée des égouts de Paris gives a history and up-close view of the city's sewer network. (You might even see rats cavorting in a feeder sewer, as we did.)
Paris Story
The price is steep and the slide-show technology seems a bit dated, but this multmedia show offers a good introduction to Paris--especially if it's raining or your feet need a break from sightseeing.
Père Lachaise Cemetery
The oldest of the great 19th Century Parisian cemeteries is a garden necropolis with some 300,000 human inhabitants and an estimated 300 to 400 cats.
Saint-Denis Basilica Cathedral
The burial place of French royalty is an easy Métro ride away from central Paris. But the Basilique Cathédrale de Saint-Denis isn't just a necropolis--it's also a lovely, light-filled example of early Gothic church architecture.
Sacré-Coeur
You needn't worship the Sacred Heart to enjoy blood-stirring views from Montmartre's hilltop basilica. (But avoid the "string men" at the base of the hill.)
Sainte-Chapelle
"Upstairs, Downstairs" is the theme at Louis IX's 13th Century church, where the colorful medieval motifs in the lower chapel are nearly as stunning as the IMAX-size stained glass in the royal chapel above.
Le Viaduc des Arts
A former railway viaduct east of the Bastille is now an elevated, landscaped walkway with craftmen's workshops in the vaulted spaces behind its 64 brick-and-stone arches.
Giverny Day Trip by Train
Claude Monet's house and gardens are easy to reach from Paris by nonstop SNCF train and a local shuttle bus.
RER 'C' Train to Versailles
Paris RER commuter trains offer frequent service to the Versailles Château Rive Gauche station, which is only a short walk from the palace and gardens.
---
---
Where to Stay in Paris
Our easy-to-read, step-by-step article will help you pick the right type of accommodation and neighborhood for your visit.
Hotels in the Marais (4th arrondissement)
The medieval center of Old Paris is still one of the city's most atmospheric neighborhoods, and it's convenient to most sights by walking or public transportation.
Hotels in Montmartre
If you're arriving by Eurostar or at Charles de Gaulle Airport, Montmartre is a convenient and atmospheric place to stay. Our hotel and apartment tips will help you avoid disappointment.
Hotels near the Eiffel Tower
We've picked hotels in the western half of the 7th arrondissement that are convenient to La Tour Eiffel.
Left Bank Hotels (5th, 6th, 7th East)
These hotels are mostly in St-Germain-des-Prés, the Latin Quarter, near the Luxembourg Gardens, or near the Seine. A few are in the Montparnasse area, within walking distance of the railroad station.
An Apartment in Paris
If you're visiting for a week or longer, Glenn Cooper can help you feel like a Parisian and save money in the bargain. (Our flat was on the Île de la Cité, just around the corner from Nôtre-Dame.)
An Apartment in Montmartre
Thanks to Michele Vannoni of Home Rental Connections, we were able to book a spacious flat near Sacré-Coeur and within walking distance of the Eurostar terminal at the Gare du Nord.
---
---
The Best Baguettes in Paris?
Don't let the clickbait headline make you cynical--Eric Kayser's Baguette Monge and Baguette Malesherbes are certainly among the best baguettes in Paris. We're addicted to the loaves from EK's Odéon branch in the Rue de l'Ancienne Comédie.
Flunch
The cuisine isn't haute, but it's a healthy step up from fast food, and you'll find plenty of middle-class Parisians at the three local branches of the French cafeteria chain.
Quick Burger
The country that loves Jerry Lewis also adores American-style franchise burgers and freedom fries. (For fast food with a view, grab an outdoor table on the Champs-Élysées.)
Curves Paris
Cheryl Imboden gets fit with friendly Frenchwomen in the 15th arrondissement.
---
---
Almost French
Sarah Turnbull, a former TV reporter from Australia, describes her journey from expat to Parisian insider in a book subtitled "Love and a New Life in Paris."
A Taste of Paris
David Downie, an author who has lived in Paris since the 1980s, has written a delightful "history of the Parisian love affair with food." (After you've read the book, why not book one of Mr. Downie's walking tours in Paris?)
A Year in the Merde
Stephen Clarke's "almost true" first-person narrative is a relentlessly funny and often profane account of expatriate life in modern Paris.
Bridges of Paris
Photographer Michael Saint James has created a stunning large-format book with more than 350 color photos of the 37 bridges that cross the Seine in Paris.
Café Life Paris
Christine and Dennis Graf, authors of Paris by Bistro, have written a delightful guide to classic and contemporary cafés around the city, with accompanying photos by Juliana Spear.
C'est la Vie
Suzy Gershman, author of the "Born to Shop" series, has written a witty and intelligent book about her first year as an expatriate in Paris.
The Riches of Paris
A review of Meribeth Clemente's The Riches of Paris: A Shopping and Touring Guide, with excerpts and links to other resources on Paris and shopping in Europe.
Through The Windows of Paris
Michael Webb's handsomely illustrated book takes you through 50 unique shops in Paris.
Walking the Da Vinci Code in Paris
Peter Caine, co-founder of Paris Walks, has written the definitive Parisian guidebook for fans of Dan Brown's bestselling novel.
---
---
Photo copyright © Galina Barskaya.